Indian-origin chef arrives with her treats to Harry, Meghan wedding
An Indian-origin chef and social entrepreneur invited by Prince Harry and Meghan Markle to their wedding arrived with some specially-baked treats at Windsor Castle today.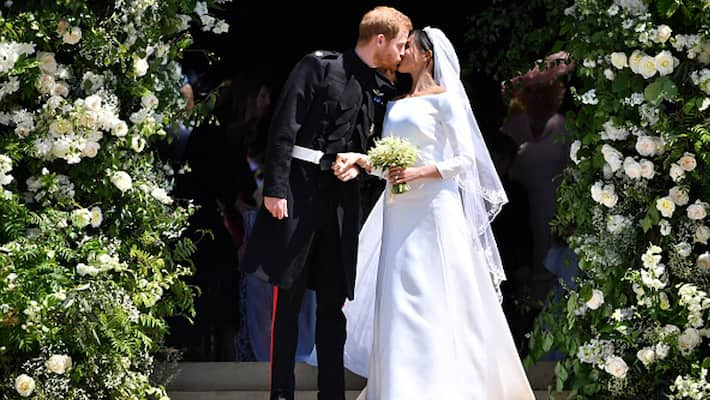 Rosie Ginday, dressed in a bright yellow flowery dress, said she felt really special to be chosen to be a part of the royal couple's special day.
"It is really exciting. They have used their special day to shine a light on organisations working to impact communities, which is so lovely and I hope they have a lovely day," said Ginday, born in the UK to Punjabi parents.
The 34-year-old is the founder of Miss Macaroon, a social enterprise that produces and sells "macaroons", which are small round-shaped biscuits typically made from ground almonds and coconut. 
The company ploughs back its profits into employment training opportunities for young people as part of a Macaroons that Make A Difference (MacsMAD) programme. The Birmingham-based enterprise had impressed Harry and Meghan when they visited the city as an engaged couple in March this year and had also got a taste of some of the macaroons.
"I have some of my macaroons with me for the picnic at the Castle," said Ginday, who is among a select 1,200 members of public invited to the grounds of Windsor Castle in recognition of the impact they make in their communities.
The entrepreneur set up Miss Macaroon in 2011 from a desire to combine her passion for social enterprise and premium quality baking. She trained as a high-end pastry chef at University College Birmingham and moved on to working in Michelin starred kitchens across Britain before turning into an award-winning businesswoman. 
Her business model is based on creating hand-crafted and gluten-free macaroons, as well as bespoke logo-printed macaroons for other businesses and designer brands for branding and event purposes. She also owns Birmingham's first macaroon and prosecco bar, which opened in the city in October 2016.
"My personal reward is that, as well as seeing young people flourish in what is a highly competitive industry and work confidently and diligently in the pressurised environment of a professional kitchen, I know my customers are also investing in these young people with the purchase of our products," she says.
Prince Harry, the sixth in line to Britain's throne, and his former actress bride chose to depart from protocol by having no official guest list of political leaders, choosing members of the public as their guests instead.
British Prime Minister Theresa May and US President Donald Trump are conspicuously absent from the guest list of the royal wedding ceremony at St. George's Chapel in Windsor Castle.
Last Updated May 19, 2018, 6:03 PM IST