ICC Cricket World Cup 2023: Ranbir Kapoor, Siddharth Malhotra, Kiara Advani, John Abram grace Wankhede
Ranbir Kapoor, Sidharth Malhotra, Kiara Advani, and John Abraham were seen cheering for India in the World Cup 2023 semi-final against New Zealand at Mumbai's Wankhede Stadium. The celebrities, captured in a fan-shared video, added glamour to the high-stakes match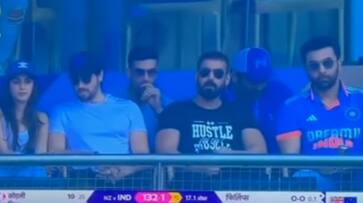 In a thrilling showdown at Mumbai's Wankhede Stadium today, the first semi-final of the World Cup 2023 unfolded between cricket powerhouses India and New Zealand. The nation was gripped with excitement as citizens across the country tuned in to witness the high-stakes match on November 15.
Adding to the fervor were notable faces from Bollywood, spotted in the stands, passionately supporting their country. Among them were Ranbir Kapoor, Sidharth Malhotra, Kiara Advani, and John Abraham, who were captured in a video shared by a Ranbir Kapoor fan club on Instagram. The celebrities, sitting shoulder to shoulder, reveled in the tense moments of the game, showcasing their unwavering support for the Indian cricket team.
For this crucial match, Sidharth and Kiara made a stylish statement by coordinating in white outfits, while John Abraham opted for a black tee. Ranbir Kapoor, demonstrating his patriotic spirit, donned an Indian cricket jersey, symbolizing his allegiance to the national team.
The match not only brought together Bollywood stars but also united the entire nation in collective anticipation and pride. The electrifying atmosphere at Wankhede Stadium mirrored the intensity on the field as India battled New Zealand for a spot in the World Cup 2023 final.
Shifting gears to their professional front, Sidharth Malhotra is gearing up for the release of "Yodha." Recently, the film's makers unveiled two striking posters featuring Sidharth in a commanding and rugged avatar. The movie, which promises a gripping narrative with the tagline "One commando. One hijack. Countless secrets," has now been rescheduled for a theatrical release on March 15, 2024.
ALSO READ: ICC Cricket World Cup 2023: Anushka Sharma seen cheering for husband Virat Kohli at Wankhede; Read
Meanwhile, Ranbir Kapoor is set to enthrall audiences in "Animal," co-starring Anil Kapoor and Rashmika Mandanna. The film is slated to hit theaters on December 1, 2023, promising a cinematic experience that fans eagerly await.
Last Updated Nov 15, 2023, 5:57 PM IST