'I faced rejection based on how I looked' reveals Ranveer Singh
During his early days, Ranveer Singh was turned down by many directors over his appearance. The actor opened up about this earlier during an interview with Komal Nahta.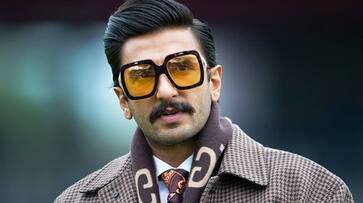 Mumbai: The glitz, the glam and of course the paparazzi – there's something about B-Town celebrities that's truly mesmerising. Be it their airport looks that make headlines or gossip around them that adds to the jazz, the stardom around Bollywood's superstars is indeed what makes them who they are. And, if you're someone who's bitten by the curiosity bug, whose pastime includes stalking celebrities' social feed and who thrives on all the buzz around B-Town, you are certainly in for an entertaining ride this May! Zee Café, one of the leading English entertainment channels, brings to you a star-studded line-up of Bollywood superstars THEN and NOW in the back-to-back episodes of Look Who's Talking with Niranjan and Starry Nights airing weekdays at 11AM only on Zee Café and Zee Café HD.
The next celebrity to take the hotseat is someone who lives life large, is a crazy fanatic and has done things in an outright expressive manner that you wouldn't see in any other actor. Always brimming with an enthusiastic energy and a magical aura, he carries every role to perfection on screen. Ranveer Singh opens up about himself, revealing unheard instances about his life in a fireside chat with the hosts Niranjan Iyengar and Komal Nahta airing Monday, May 11, 2020 on Zee Café.
Ranveer Singh talks of his initial days as a struggling actor in the industry. This is what he had to say, "Initially, I faced rejection on the basis of how I looked not so much because of my ability. I was told that I wasn't very good looking or conventional maybe I wasn't fair or tall enough."
Talking about believing in himself and having faith in his capabilities, Ranveer Singh said, "There was a time I landed a bunch of gigs but I decided to pass them on to gamble and wait for something bigger and I don't really know why but these were decent opportunities that I was letting go."
When asked about what others would think about his antics, he said, "It's just a matter of the mind where I am always being honest with myself while also having a fun time. If I always do the right things with my heart and soul, there is nothing to worry about or regret."
Talking about over the top energy that he carries with him everywhere, Ranveer said, "I have to shake things up to keep myself amused. I like to play high stakes in everything and because of that I like to do things that generally makes one very nervous or scared."
Talk about the amount of self-love he has for himself, Ranveer Singh said, "My 2AM friend is my alter ego"
Talking frankly about his take on love and marriage with host Komal Nahta on the episode of Starry Nights 2.Oh!, this is what Ranveer Singh said, "A few years ago, I was rethinking my take on the institution of marriage. I never really thought the wedding bug will bite me, but it has. It all has to do with the person you feel you want to spend your life with and grow old together."
With that as only the teaser, there's tons of entertainment in store! Watch out for your favourite celebrity in the blockbuster line-up of the two talk shows on Zee Café.
Last Updated May 10, 2020, 11:20 AM IST