Kichcha Sudeep took to Twitter recently to applaud the team of Kurukshetra.
Sudeep also mentioned that only Darshan would be perfect to portray the role of Duryodhana with his personality and presence.
He also added that Kurukshetra will be a feather in the cap for Darshan.
Kannada film industry actor Darshan on Twitter had previously announced that he has ended his friendship with Kichcha Sudeep. However, some of Sudeep's recent tweets give another side of the story.
Sudeep's post on twitter reads, "It's awesome to see a huge cinema(in all aspects)going on floor.. My best wshs to producer MuniRatna & the entire team of kurukshetra." In another tweet, he posted, "(Contd) n it surely Wil b another feather in the cap to Darshan... Only he can justify this role wth his personality n presence. Best wshs."
A few months ago, Darshan took to Twitter to express that he and Sudeep were no more friends. Post that incident many thought that Darshan's account had been hacked. Later, Darshan revealed on his account that his Twitter account was not hacked and that the tweet was authentic, which grabbed the headline and many debates about their friendship. Darshan said it openly, but Sudeep made no comments regarding his tweet.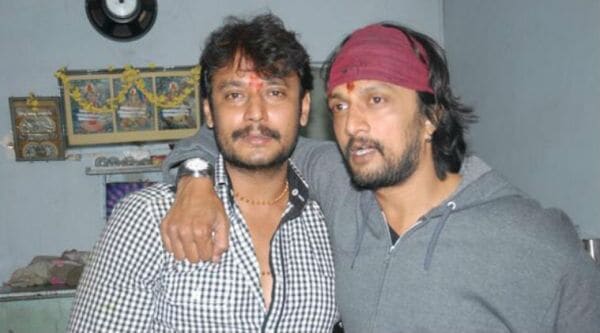 Interestingly, after the rift between the two actors, Darshan unfollowed Sudeep on Twitter and Facebook, while, Sudeep till date is follows Darshan on all platforms. 
Last Updated 31, Mar 2018, 6:50 PM IST