Sunny Leone in Kochi and the number of fans will make your jaws drop to the floor.
Thousands showed up to catch a glimpse of Sunny Leone as she arrived at a Kochi event.
Sunny shared photos and videos from the event on Twitter and wrote that she was overwhelmed by the love.
On August 17, thousands showed up to catch a glimpse of Sunny Leone as she arrived at a Kochi event. Sunny was in Kochi to inaugurate a mobile store, and her fans turned up in hordes. It wouldn't be an exaggeration to say that a sea of fans showed up just to get a glimpse of her. Who knew Kochi was home to so many men!
 
Social media went berserk when pictures of the crowd gathered to see Sunny Leone in Kochi surfaced online. The roads were blocked, and her fans pushed each other to get a closer look of Sunny. In a few hours, Sunny Leone in Kochi hashtag started trending and was enough to set the search on fire.
 
Interestingly, this frenzy did invite some criticism as well. A few people termed it a 'perversion' and case of mismanagement. Looking at this Sunny was visibly dumbfounded by the unprecedented display of appreciation and affection by the people, she also tweeted "My car in literally a sea of love in Kochi Kerala!! Thanks. Just wanted to take a min to say thank you to the @KochiPolice for making me feel so safe amoung the thousands of people, (SIC)"
 
Check out a few pictures here from the event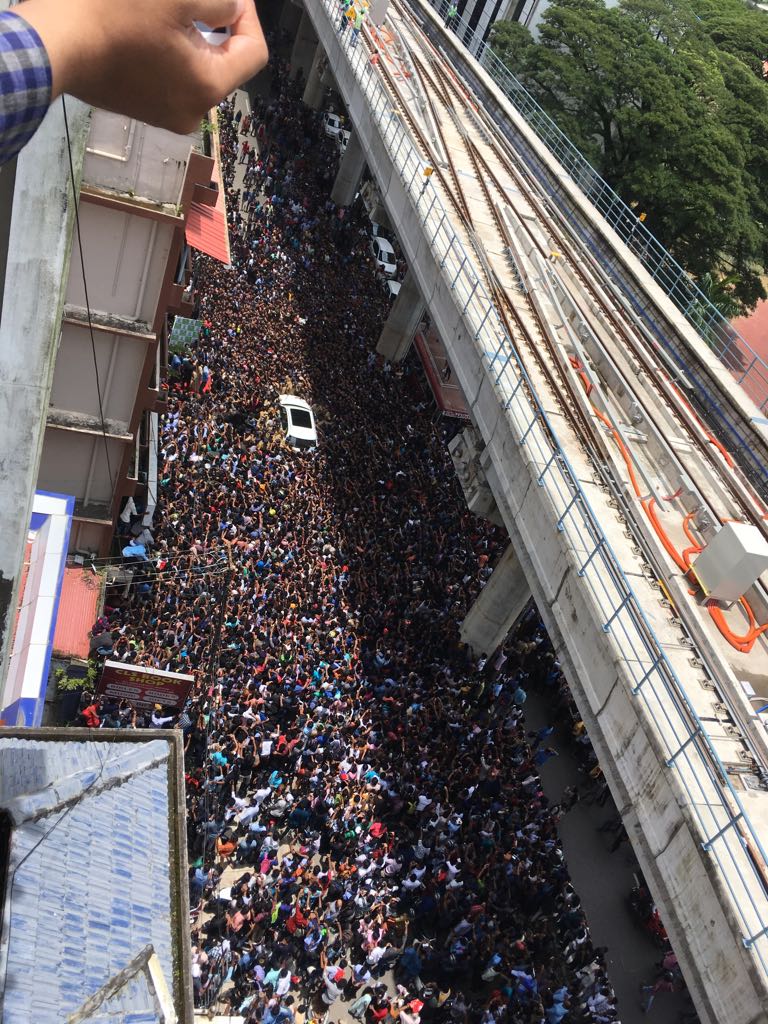 This proves Keralites love Sunny Leone and we have five reasons to tell you why we say so
 
1) Forget Pamela Anderson of Hollywood or Shakeela, Silk Smitha of South India; Sunny Leone is the latest sex symbol of Indian film industry. She's already replaced many posters in many rooms.
 
2) She has one thing in common with the majority of the female population in the state, Sunny also wanted to become a paediatric nurse but later on, she chose to become a Penthouse star.  She was the Penthouse Pet of the Month in March 2001 and Penthouse Pet of the Year in 2003.

 
3) The actress who was only seen on big screens and on a few magazine covers, and seeing her in the flesh was enough to make the crowd go mad. She is not only popular in India, but all over the world, thanks to her previous career.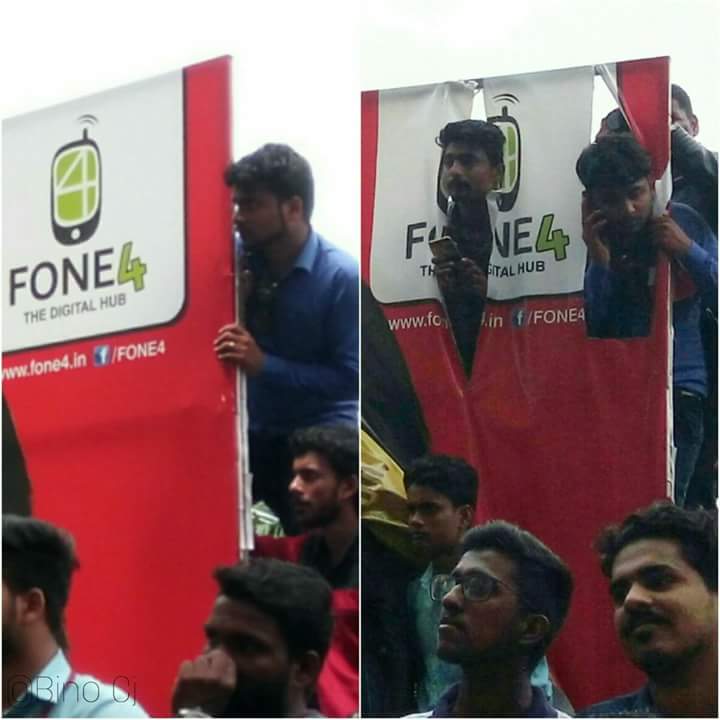 4) People on Twitter, just as surprised as Sunny, have made several memes for it. Some are comparing her to Khaleesi, the Mother of Dragons from Game of Thrones, who was surrounded and called 'Mhysa' by a horde of slaves she freed from chains. So can we say Sunny Leone the Queen of the North.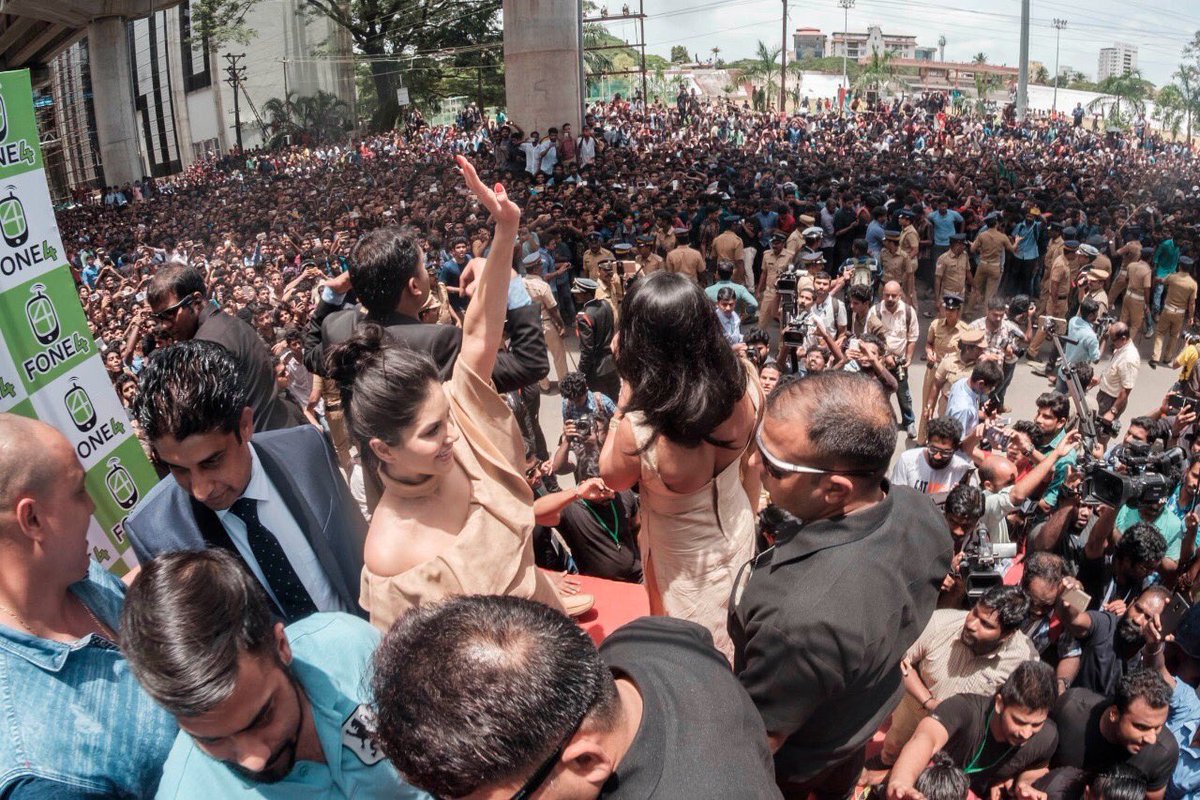 5) She is one of the favourite item girls in the film industry and her movies made her more popular among men. She has also done many South Indian films. That we can see in these pictures which were clicked from an aerial view. Sunny's husband, Daniel Weber did not miss out on the opportunity to share a hilarious meme. He compared the turnout on US President Donald Trump and former President Barack Obama's inauguration ceremony to the crowd assembled for Sunny. Now that's called fan following!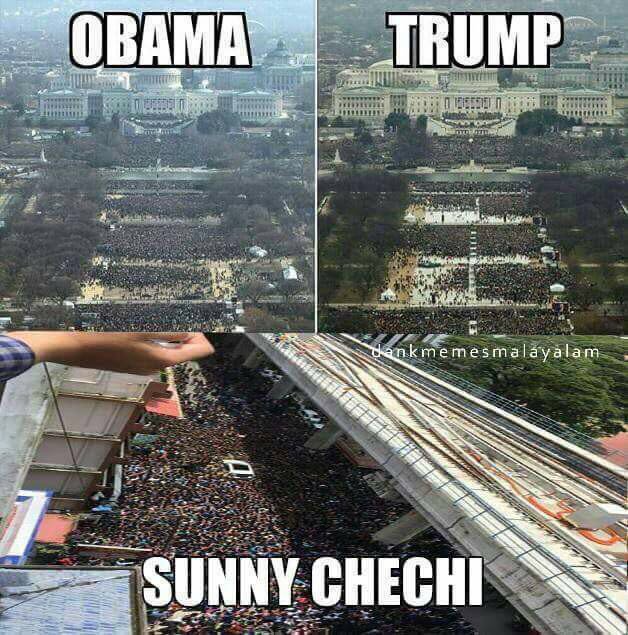 On the work front, Sunny will be seen in special songs in two upcoming films, Baadshaho and Bhoomi. She is also awaiting the release of her film Tera Intezaar, opposite Arbaaz Khan. Sunny and her husband have recently adopted a 21-month-old baby girl recently from Latur in Maharashtra, Nisha. Sunny has a fan base of more than 10 million on Instagram.