Ganapath First review OUT: Tiger Shroff, Kriti Sanon's futuristic thriller takes Bollywood by storm
Ganapath, featuring Tiger Shroff and Kriti Sanon, directed by Vikas Bahl, is receiving a positive response for its futuristic approach and top-notch action sequences, offering a refreshing experience in Bollywood. Shroff and Sanon shine in a male-centric plot, despite minor narrative flaws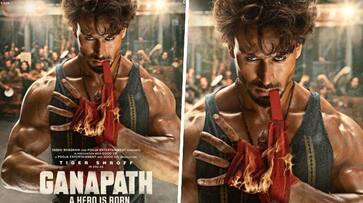 Tiger Shroff and Kriti Sanon's highly-anticipated movie, 'Ganapath,' has finally hit the theaters, and it seems to be making a positive impact on the audience. Directed by Vikas Bahl, the film has garnered praise from viewers who attended the first show on Friday. Social media users have taken to the microblogging site X to express their appreciation for the movie, with some describing it as "futuristic" and commending its outstanding action sequences.
One user commented, "#Ganapath thrusts #Bollywood into a futuristic world with vigor. #TigerShroff does what he does best, while #KritiSanon once again demonstrates how a heroine can shine in a male-centric plot. Director #VikasBahl's narrative encounters a few minor bumps along the way, but the end result is an unprecedented spectacle for #Indian #cinema."
It appears that "Ganapath" has successfully taken Bollywood into uncharted territory, offering an exciting and futuristic experience to the audience. Tiger Shroff's performance has met the high expectations set by his previous roles, and Kriti Sanon has once again proven her ability to stand out in a predominantly male-driven storyline. Although the film may have a few minor narrative hiccups, it ultimately delivers an unparalleled spectacle for the world of Indian cinema.
Check out the reviews here:
 
Last Updated Oct 20, 2023, 7:51 AM IST