Bigg Boss 17 Weekend Ka Vaar: Salman Khan confronts Mannara Chopra for 'molest' remark; says this to her
Salman Khan addresses controversy on 'Bigg Boss' as he scolds Mannara Chopra for using 'molest' comment, which had earlier sparked heated arguments among contestants.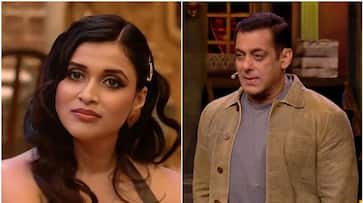 On Friday, the Bigg Boss show had a special episode called "Weekend Ka Vaar" with Salman Khan, where he spoke with the contestants about their performance in the past week. During the episode, Salman Khan scolded Mannara Chopra for using the word "molest" in a comment she made about another contestant, Khanzaadi. He told Mannara that it was wrong to use such a serious word and advised her to be more careful with her choice of words.
The incident happened when Khanzaadi, Abhishek Kumar, and Navid Sole were having fun together. Khanzaadi tried to lift Abhishek in a playful manner, but Mannara made a controversial comment, suggesting that Khanzaadi was "molesting" Abhishek. This upset Khanzaadi, who confronted Mannara about her comment. Even though other contestants like Anurag Dobhal and Abhishek Kumar called out Mannara for her comment, she didn't take it seriously, which made Khanzaadi leave the room.
Later, in a different room, Khanzaadi shared the incident with other contestants, and they were disappointed with Mannara's behavior. Many people advised Mannara to apologize, but she refused, which led to a heated argument involving several contestants, including Arun Mashettey, Sunny Aryaa, Anurag Dobhal, and Manasvi Mamgai.
Salman addressed Khanzaadi's concerns
Salman Khan also addressed another issue brought up by Khanzaadi regarding Abhishek Kumar's behavior. She had earlier expressed her concerns about Abhishek's actions to her fellow contestants Arun Mashettey and Sunny Aryaa. Salman asked Khanzaadi if she appreciated the attention she received from Abhishek and if she was comfortable with his growing closeness to her. Khanzaadi admitted that she did enjoy Abhishek's attention.

Salman Khan on Elvish Yadav's Trophy Controversy
Elvish Yadav, who won 'Bigg Boss OTT 2,' and a previous contestant named Manisha Rani came to the 'Bigg Boss 17' Weekend Ka Vaar episode to promote their song. They had a dance performance on the show, along with Salman Khan on the Bigg Boss stage.
After their dance, Salman Khan jokingly asked Elvish if he had brought something with him - "Aap toh aagaye usse saath nahi laaye?" Elvish asked, "Kisko? (Who)" Salman Khan playfully replied, "oh aap hume lautana chahte the?(Oh, you wanted to return us something)" and added, "Your trophy." Elvish laughed and explained the trophy controversy. He stated "I never wanted to return. It all happened because there was too much negativity online. Someone started spreading negativity, made memes about me and did negative PR. So I thought if this is happening because of the trophy then take the trophy from me but don't spread negativity."
ALSO READ: Elvish Yadav's image of playing with 'snakes' amid ongoing 'snake venom' FIR goes viral; Here's what he said
Last Updated Nov 4, 2023, 3:30 PM IST