Bandra REVIEW: Is Dileep, Tamannaah's Malayalam drama worth your money and time? Know what audiences say
Bandra is a Malayalam drama movie directed by Arun Gopy and written by Udaykrishna. The film stars Dileep, Tamannaah Bhatia, Dino Morea, Lenaa, Mamta Mohandas, Kalabhavan Shajohn, Sarathkumar, Rajveer Ankur Singh, and many more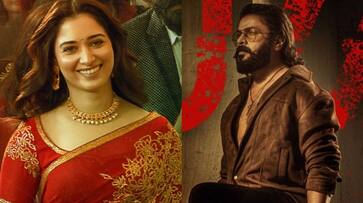 The Malayalam film Dileep's 147th film, Bandra, marks Tamannaah Bhatia's debut in the Malayalam film industry. The film's director, Arun Gopy, stated that although the story is made up, it is based on a true story. Besides Dileep, Tamannaah Bhatia, the film also features Dino Morea, Lenaa, Mamta Mohandas, Kalabhavan Shajohn, Sarathkumar, Rajveer Ankur Singh, Darasing Khurana, Amit Tiwari, and Easwari Rao are among the cast members of Bandra.
On September 1, 2022, a ceremonial event was held at the Kottarakkara Ganapathy Temple to mark the start of principal photography. December saw the end of the first round of filming in Rajasthan. After filming a two-day shoot in Hyderabad for the role of Jailer, Tamannaah arrived in Kochi on January 20, 2023, to begin the second session.
Also Read: Who was Kalabhavan Haneef, the Malayalam actor who made movie-goers laugh for 30 years
Numerous locales, including Ahmedabad, Siddhapur, Rajkot, Gondal, Jaipur, Mumbai, and Hyderabad, were used for filming. April saw the capture of post-credit scenes in Russia, and on September 14, 2023, production ended.
About Bandra 
Dileep plays Alan "Aala" Alexander Dominic in the movie, Tamannaah Bhatia plays Tara Janaki, Dino Morea plays Raghavendra Desai, Lenaa plays Hemaji, Mamta Mohandas plays Sakshi, Kalabhavan Shajohn plays Mirchi, Sarathkumar plays Veera Raghavan IPS, Rajveer Ankur Singh plays Bala, and Darasing Khurana plays Munna.
Aryan Santhosh as ACP Sanjay Bhatt, VTV Ganesh as Goswamy, Anjana Appukuttan as Sudha, Gautam Rode as Arjun Pandey, Sidhique as SP Stanley IPS, Sarath Sabha as Paulo, Ubaidulla as Rarichan, Sundar Raj as Santhanam, Amit Tiwari as Rashid Khan, Easwari Rao as Rosamma, Rejoice as Rejoice, Suresh Kumar as Sarath Kumar, Suresh Menon as Rajeev Kumar, Ubaidulla as Rarichan, Sundar Raj as Santhanam, K. B. Ganesh Kumar as Babukka.
Also Read: Salaar: Prabhas-led actioner-drama film's trailer date revealed; Know details
Sam C. S. composed the film's musical score, while Vivek Harshan and Shaji Kumar were in charge of the editing and cinematography, respectively. Anbariv coordinated the stunts. We hope that everyone who enjoys films will find "Bandra" to be a fun cinematic experience when it opens. Watch this space for incisive evaluations as viewers discuss this action drama.
Last Updated Nov 10, 2023, 8:40 AM IST