'RDX' Malayalam movie: Neeraj Madhav, Shane Nigam and Antony receives grand welcome from fans
Antony Varghese, Shane Nigam and Neeraj Madhav starrer 'RDX' is a complete theatre entertainer. Shane Nigam expresses gratitude for the unexpected warm welcome and thanks RDX fans for their unwavering support.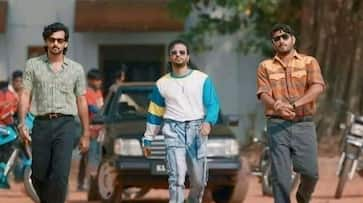 There have been many films that have made history about changing prejudices. They are the rare hit films that come along. The movie Romancham is the biggest example of that. 'RDX' was a surprise hit in this group. Antony Varghese, Shane Nigam and Neeraj Madhav starrer is a complete theater entertainer. 
The film received excellent word-of-mouth publicity from the day of its release and is progressing past the 50 crore collection mark. The main stars of the movie like Antony, Shane and Neeraj are getting huge love and welcome from the people. On this occasion, the eyes and heart of the stars are filled with the huge welcome they have received. 
The RDX team graced the Onam closing ceremony, and the video of their presence at Kanakakunnu has gone viral. An enormous crowd gathered to catch a glimpse of their beloved stars. Notably, Minister Riyas and Chief Minister Pinarayi Vijayan watched the film 'Jailer' during its release. Antony Varghese humbly invited all cabinet ministers to experience 'RDX,' and Neeraj Madhav expressed astonishment at the overwhelming turnout. Shane Nigam, overwhelmed by the unexpected love and reception, extended heartfelt thanks to RDX supporters.
"Until a week ago, we didn't know what the fate of our film was. It was a big dream of a group of youngsters to release a film for Onam. When it came out and today when I am standing here as one among you, I have only one thing to say. It's a common man's success. Around 150 shows are running across Kerala. The film is also released outside India. It's a dream tour for us. ", says Neeraj Madhav. 
RDX is an action-packed movie designed to provide entertainment. The action choreography and its execution are key elements that captivate the audience.
The film incorporates typical elements found in mass entertainers, including revenge, romance, and songs. It also features the backdrop of a Perunnal (Church festival) where conflicts occur.
Last Updated Sep 6, 2023, 12:08 PM IST