'Jai Ganesha' song OUT: Tiger Shroff ignites stage with incredible dance moves in Ganapath's latest track
The movie 'Ganpath: A Hero is Born' starring Tiger Shroff is set to hit theaters on October 20, 2023. Watch the just-released celebratory song "Jai Ganesha" available for viewing today.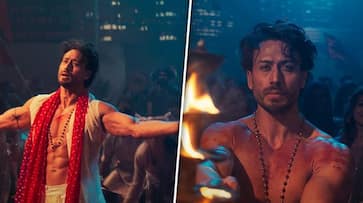 The movie 'Ganapath' by Pooja Entertainment is becoming more and more exciting as time goes on. After the teaser received a huge response, the recently released thrilling trailer has made the fans and audiences even more excited. Now, they have released a special celebratory song called 'Jai Ganesha' to capture the true spirit of Ganapath, the movie's main character, who will rise to protect his people with the blessings of Lord Ganesha.
A few days ago, the filmmakers released the first song, 'Hum Aaye Hain,' which has been trending on various platforms since its release. They are continuing the musical journey of the film by unveiling the highly anticipated 'Jai Ganesha' song. This energetic song, 'Jai Ganesha,' is sung and composed by Vishal Mishra, and the lyrics are written by Akshay Tripathi.
The song starts with an impressive beat and introduces us to a grand scene where Tiger Shroff, the movie's star, emerges in a new world to protect his people. With Tiger Shroff's incredible dance moves and boundless energy, this lively devotional song is sure to leave a lasting impression on the audience.
'GANAPATH: A Hero Is Born' is presented by Pooja Entertainment in collaboration with Good Co. The movie is directed by Vikas Bahl and produced by Vashu Bhagnani, Jackky Bhagnani, Deepshikha Deshmukh, and Vikas Bahl. It is scheduled for a worldwide release in Hindi, Tamil, Telugu, Malayalam, and Kannada on October 20, 2023.
ALSO READ: Alia Bhatt gives shoutout for Ranbir Kapoor's new song 'Hua Main', says 'Playing on loop'
Last Updated Oct 12, 2023, 1:35 PM IST