Devaraja Urs, the then chief minister of Karnataka, had started the 'Film Development Corporation' (FDC) to improve the films technically. Providing tools related to the production of the film was the main aim of this Corporation. The Chowdiah Memorial Hall founder KK Murthy was the Managing Director of the FDC. Close to the Kannada cinemas, Legend V Shantharam was a member of the FDC committee.
Shantharam was invited to Bengaluru to attend a three-day meeting regarding the FDC. By then he was a big name in the Hindi film industry. So, from the moment he landed in Bengaluru, he had to make time to attend the meeting as he was requested to accept the felicitation of the people. From events were organised in his felicitation from Woodlands to Press Club.
The events were organised by the Kannada film fraternity and actors, technicians took part in it with great zeal. Even erstwhile City Municipal Corporation Mayor had organised an event to felicitate Shantharam.
As the FDC member, his contribution to the Kannada film industry is unforgettable. His advice on discipline in filmmaking, advises on new developments and how to incorporate it in films has played a very important role in the development of Kannada Film industry.
Though his strong connection with the Kannada film industry and his contribution to Hindi film industry, he was a bridge between the two and made both the film industries have a good rapport and relation.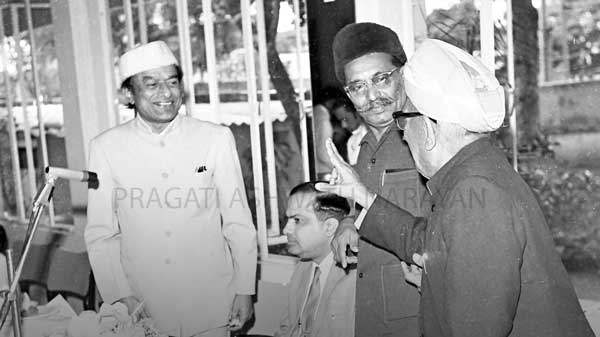 Caption: V Shantharam at a felicitation ceremony with film industrialist Karibasavaiah, legendary theatre person Gubbi Veeranna.