India had got an invitation to send some of the well known and experienced directors to represent the country at a film festival in Russia. Puttanna Kanagal was the immediate and unanimous choice of the directors from the South film industry.
The South India Directors' Association makes arrangements for sending Puttanna to Russia. One of strict director Puttanna's favourite actress Kalpana had arranged a farewell party for her mentor. This programme was held at Manasagangotri Hall in Mysore (The Mysore University hall).
It was a time when the films acted by Kalpana and directed by Puttanna were a huge hit. Kalpana was considered one of the top actresses of that time. Still, she was in all ways trying to build an image in the film industry.
The farewell programme began and from writers Hama Nayak, Javaregowda, Alanahalli Krishna, Gorur Ramaswamy Iyengar were also invited. From the film field Arasukumar, Vadiraj, Lakshman, Bhakthavatsalam, RN Jayagopal, Narasimharaju and others also had gathered.
The speciality of the farewell programme was food served in plantain leaf and served by Kalpana herself. She not only served Puttanna, but all her guests of the day. Puttanna was very happy with the arrangements organised in his respect. When Kalpana was serving food, Puttanna called her and gave laddoo to her mouth.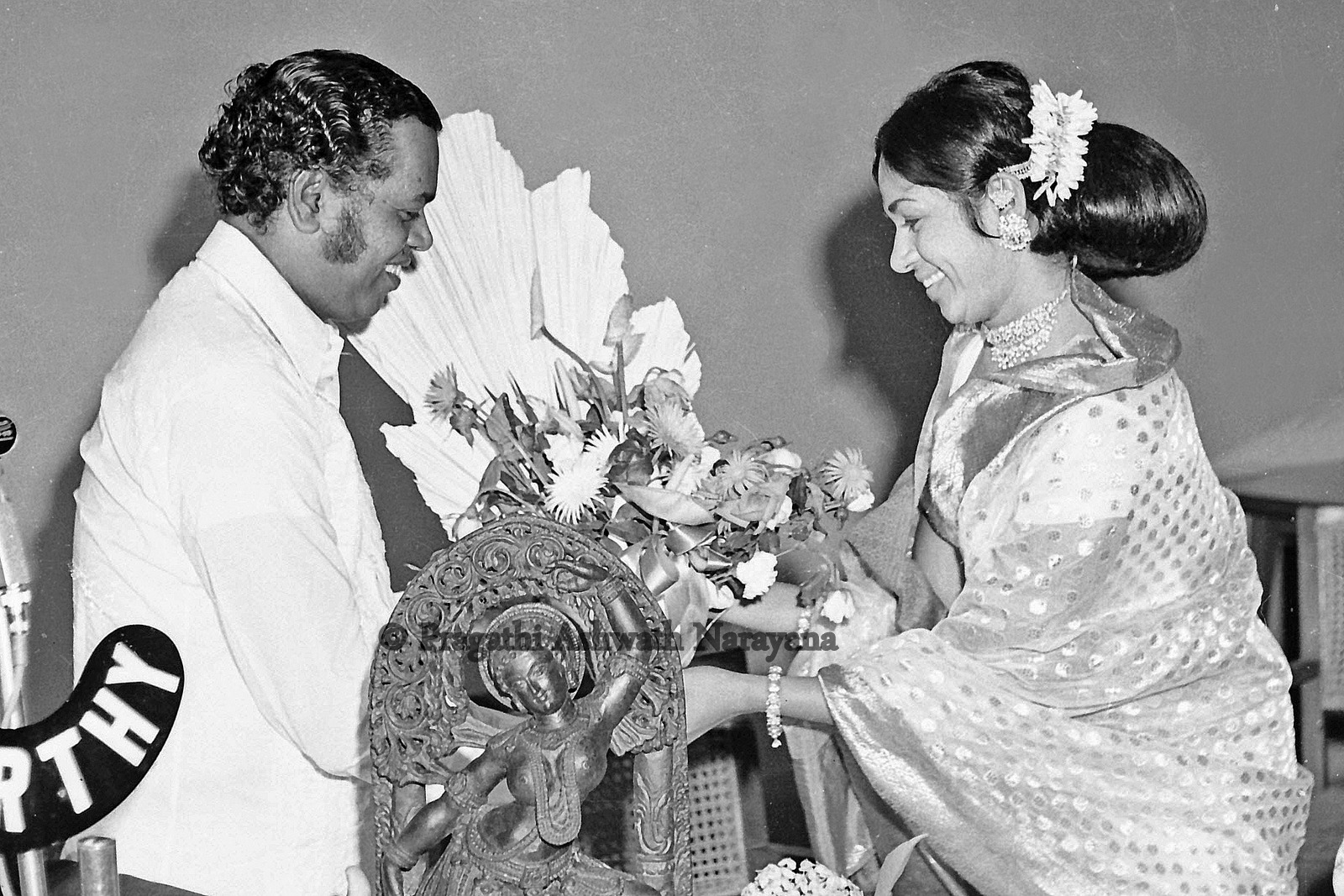 This was the greatest moment of the day, and all were getting ready to leave with gratitude for treating them all so very well. Especially Puttanna was happy that he got to spend time with his favourite writers and actors. That day Kalpana was the perfect hostess of the occasion.
At the end, Kalpana's associate Channamma, performed a small ritual to wade off all bad influences from Puttanna. Kalpana even presented a painting to her favourite director.
Puttanna Kanagal is known as the most strict director who can agree to a shot only when it is perfect. He was a perfectionist and actors who came from his direction are known as Kannada's best actors.
It was a great moment for Kalpana to be the perfect host to Puttanna who is always considered a perfectionist. 
Puttanna Kanagal
Puttanna Kanagal, born as Shubraveshti Ramaswamiah Seetharama Sharma is fondly called the 'Chitra Bramha' meaning God of Films in Kannada. He is considered as one of Indian filmmaker and is considered as one of Kannada's cinema's greatest filmmakers.  
Kanagal started his film career as a publicity boy. His became interested in filmmaking after he trained under director and producer BR Panthulu as his assistant.
Gejje Pooje, Sharapanjara, Nagarahavu, Edakallu Guddada Mele,  Shubha Mangala, Ranganayaki and some of his movies considered as the best even to this day.