Exploring new places, tasting eclectic cuisines and going on adventures are all part of an ultimate vacation. Amid all this enjoyment, fun and frolic, we tend to forget a very important aspect – skin care. Yes, it is vital that your skin feels alive and moisturised no matter where you are and what you do.
Today I am speaking to one of my best friends. Introducing Sudha Kappet. Sudha has been travelling since she was a baby. Her job keeps her 35,000 ft among the clouds. Yes she has been a Flight Attendant and is now training to become a Commercial Pilot. Hence, by now Sudha has an experiential PhD on how to deal with skin while on travel. 
Me: How important is skin care while travelling?
Sudha: "While we associate travel and holidays with leisure it's actually a time when our skin is working overtime. The dry, recycled cabin air in long-haul flights, sudden and maybe extreme weather changes, sleep deprivation, too much alcohol, salt water (if you're traveling to a coastal region) etc are just some factors that can be the devil to our skin and even short-term exposure to these elements can cause long-lasting damage to our skin– ask someone who spent 6 years of her life flying and neglecting her skin (ME!). So, while we may be on vacation and would love to travel light; don't skimp in your skincare department."
And I totally agree with her. In the rush of packing bags and weight limits by airlines, we leave our skin care products behind thinking that we can always buy it later or use the hotel amenities. You never know what brands will be available where you are going, whether or not there will be a drug store to pick it up from let alone a Clinique store! 
TRAVEL TIP: Yes, toiletries are heavy and take up too much space. However, there is a way to work around the whole too much space required situation. There are travel containers available that have 100ml empty bottles. These are life savers! And guess what? They can also go into your cabin bags! You will find these bottles at any local drugstore or departmental store. It's easy. Its light, its small and you don't have to sacrifice your skin care routine!
Me: What are the essential skin care products in your travel bag? (send pics of your products)
Sudha: "Since I travel for a living I have two bags for skin care: one with normal sized products and the second smaller bag with travel sized ones to keep the airport security officers happy. Here's what I carry from head to toe (never forget your feet! Lounging around Goan beaches can be so much fun but the prolonged exposure to saltwater and coarse sand can be devastating to your soft soles)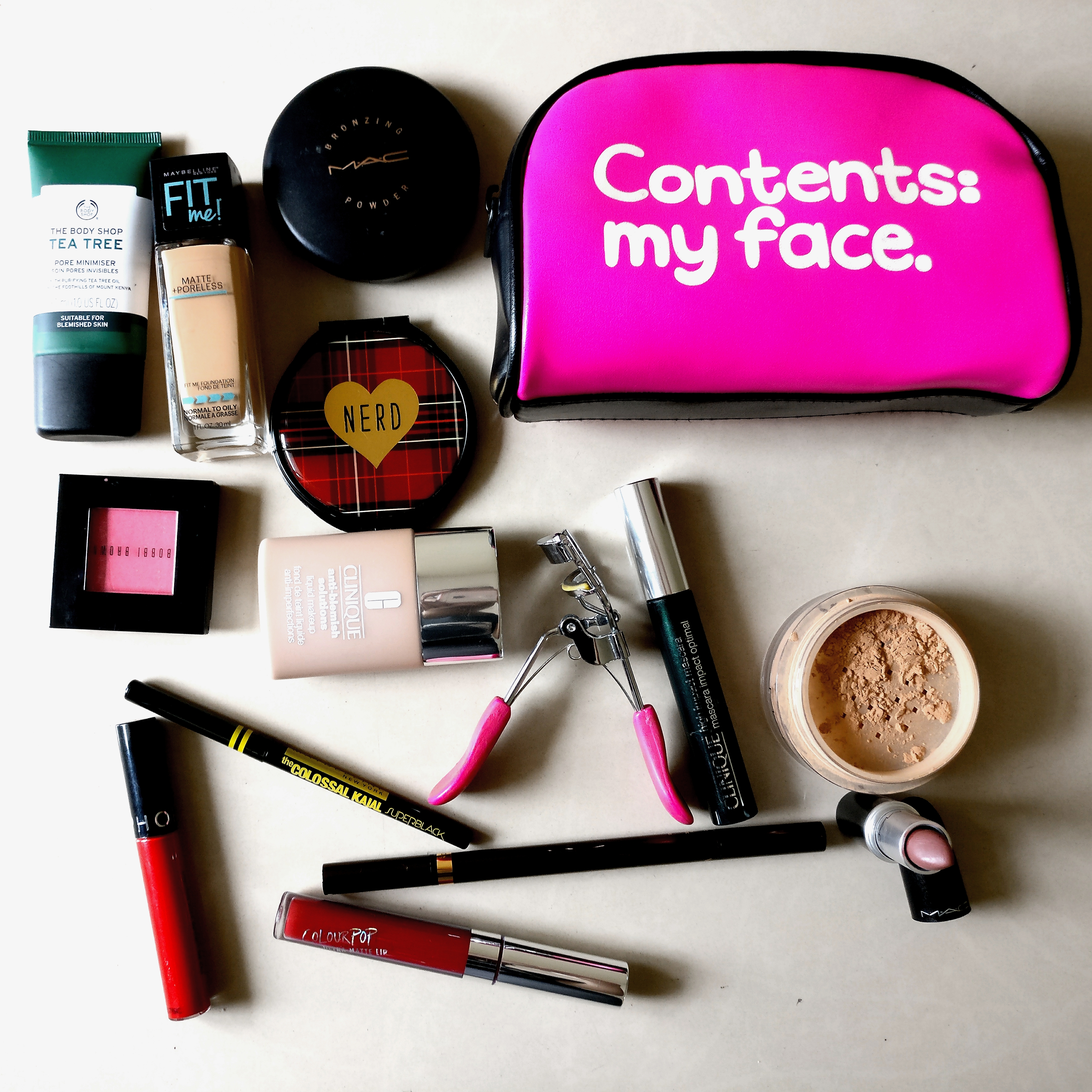 Cetaphil cleanser for oily skin
I alternate this sometimes with the Himalaya Purifying Facewash  
Dabur Rose Water
Any rose water would actually work. The reason I use Dabur is that their product comes with spray nozzle. I use rose water as a toner after cleansing and as a mist, couple times during a long day to refresh my face.  
The Body Shop Tea Tree Pore Minimiser
I can't honestly tell if this has minimised my pores but it works amazingly both as a moisturizer and as a primer especially on humid days when you want to keep the layers on your face to a minimum. It also mattifies without drying your skin. 
Lotus Herbals Safe Sun UV Screen Matte Gel (SPF 50)
I cannot rave enough about this product! First: If you aren't in the aviation industry I wouldn't recommend a product with an SPF as high as 50 however if like me your office is literally 4,000 – 35,000 ft in the air and you live in one of the hottest cities in the country I would advise you to get yourself a whole pack of these. This sunscreen unlike the million others I have tried is NOT greasy! It is a gel which when applied is cooling, mattifying and does not remind you of its existence at all. It also has a very subtle fragrance. They do recommend that you reapply every 2 hours. I wouldn't argue with that. 
Himalaya Neem Face Pack
I only carry this on trips that last longer than a week. Your skin tends to get tired especially if you wear makeup on a daily basis so a face pack or mask is vital. 
Victoria Secret Amber Romance body lotion
This is definitely the most delicious smelling lotion I have EVER come across in my life. I wouldn't recommend this at humid locations though as it is quite creamy. By far the best body lotion for a night out.
Bath and Body works Warm vanilla sanitizer
NEVER step out anywhere without a sanitizer! You may not be using your hands to eat but you are probably going to touch up your make up sometime and you want your hands to be extremely clean at the time. B&B sanitizers are tiny, they can be attached to your bags and smell amazing. 
Himalaya Wellness Foot Care Cream
The best way to use this is to apply just before you sleep, wait a couple minutes and wear a bedtime sock. I've found it works better with socks on.
Odomos Mosquito Repellent Cream
Especially if you're travelling to a tropical city
Batiste Dry Shampoo
I carry these especially if I'm only travelling for a few days. The dry shampoo not only saves you time, it gives you volume too! A trick I picked up is to apply it the night before, as a part of your "before sleep" routine. The product has enough time to work its magic and the white powder would have disappeared by morning. 
Moroccan Oil
I will literally never leave my city without a bottle of this.  All you need is a drop and your hair turns silky smooth and smells heavenly.  
Johnson's Baby Oil
As I've mentioned before I have extremely sensitive skin so I try my best to keep products I use on my face to a minimum or as mild as possible. I use baby oil as a makeup remover and it works well even on water proof makeup. 
Wooden Emery Board
A lot of fun holiday activities can be fatal to those long nails. Always carry a file on you for emergencies. 
A lot of people have also asked me multiple times if makeup is good while travelling. In my experience, if you are boarding a long-haul flight, avoid make up. If you are travelling short distances, it is good to first apply generous quantities of moisturiser and then a light foundation. Choose a foundation with SPF. This forms a filter between your skin and harmful UV rays, dirt, germs and general garbage that would possibly damage your skin.
 
TRAVEL TIP: Even though make up can be a saviour for you, I would recommend avoiding it as much as possible while travelling. Keep your skin clean and moisturised at all times!
Me: Do you think one should carry/wear makeup while travelling?
Sudha: I wouldn't say you have to carry makeup when you travel. Makeup is a personal choice. Some people may feel under-dressed without makeup; some may prefer less because of the kind of activities they have planned. Personally my Instagram and Snapchat accounts are the busiest when I'm vacationing so I do wear make-up but I tend to wear less during the day and more when I head out at night. I would suggest planning your makeup according to the activities you have planned and the weather you will be facing. 
Me: What are the beauty essentials in your travel bag? 
Sudha: "I tend to travel light when it comes to make-up so I do skimp on some steps such as concealer, highlighter and sometimes eye shadows."
•    Primer – The Body Shop Tea Tree Pore Minimiser
•    Foundation – Clinique Anti-Blemish Solutions OR Maybelline Fit Me! Matte + Poreless Foundation (depends on the weather of the place I'm travelling to and the state of my skin at the time)
•    Loose powder – MAC Mineralized Loose Powder
•    Contouring – MAC Bronzing Powder 
•    Eye shadow – The Urban Decay Naked Palette 
•    Blush – Bobbi Brown Powder Blush in Apricot
•    Kohl – Maybelline the Colossal Kajal in Super Black
•    Eyeliner –Tom Ford Eye Defining Pen
•    Mascara – Clinique High Impact Mascara
•    Lipstick – Colorpop in Avenue, MAC in Whirl, Sephora in Always Red 
Here are a few more hacks for you from her to make life simpler!
Sudha: After countless YouTube videos and many broken foundation bottles, I can safely say that I have picked up a few tricks to travelling with makeup hassle free. 
•    Foundation bottles are a pain to carry around. I generally carry my foundation in a contact lens container. I use one side for foundation and the other for either concealer or primer.
•    I daresay you would want to spend your vacation cleaning your brushes and beauty blenders. The best solution to dirty brushes is to not carry them at all or carry very few. For instance, your fingers work wonders are a blender when applying foundation. Why carry a beauty blender?
•    I'm quite lazy and one of the hacks I've mastered is to reapply my foundation as a concealer when I'm travelling or in a hurry. 
•    Some products can be multi-functional. For instance, your bronzer/ blush can be used as an eyeshadow. Some other multi-functional products and their uses are : 
o    Dark brown/ bronze eye shadows used as bronzers. 
o    Peachy eyeshadows can be used as blush.
o    Your kohl can be blended in place of a black eye shadow for those sought after smokey eyes. 
o    Lipsticks can be used as a cream blush. 
o    I personally carry around the staple lip colors i.e. A bold red and a nude. If in the mood to experiment you can mix your eyeshadow with Vaseline and use that as a lip colour. 
•    As I mentioned earlier I try to use my fingers in place of brushes as much as I can while travelling. Another common place item you could use is a Starbucks napkin in place of a brush to apply your loose powder. It sounds super weird but when you find yourself brushless in Starbucks on a humid afternoon with a shiny sweaty face, you realise that a napkin can be a lifesaver! 
I hope these pointers from Sudha were helpful! We look forward to hearing from you guys if you have more!