As the title suggests, travelling solo is a huge apprehension for most, especially women. I, however, am on the other side of the spectrum and I'm not alone.
Today I am chatting up a hot shot marketer from Mumbai who is not only fierce in business but is equally driven to discover off-the-beaten-track places.
Meet Aditi Kanakia.
What motivates you to travel solo?
Primarily shocking and scaring myself (laughs). But also, seeing new places, discovering new cultures, living like locals, gathering new experiences. It might sound like a cliché, but it is an escape and it's very essential to break away from your regular life.
And I completely agree with Aditi. Travelling is an essential part of my life too. I would probably lose my head if I didn't leave the city at least once in a couple of months! And travelling without baggage (people) is the best thing that happened to me. You don't need to sync your plans with anyone, you don't need to restrict yourself to other people's preferences and overall you can basically do whatever the hell you want to.
You may be thinking that only a particular type of traveller can travel solo – like a luxury traveller or a backpacker and you may not be either of them.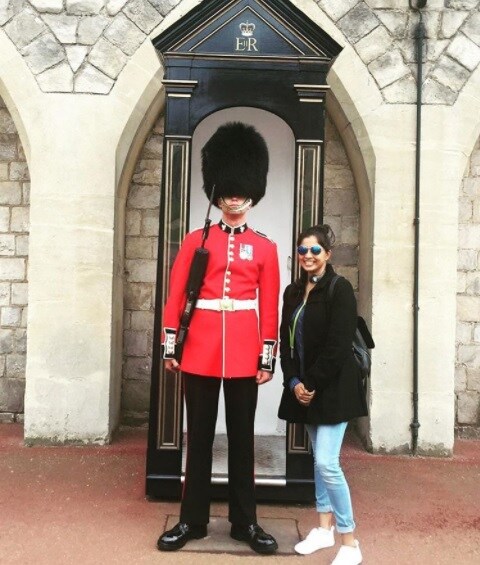 What kind of traveller are you, are you a backpacker, budget or luxury traveller?
My back is too weak for backpacking (laughs). I am definitely a budget traveller. I don't stay in hotels. I only book homestays, Airbnb and hostels. I take public transport, eat at local restaurants, I love experimenting with street food… it just gives me a wholesome flavour of the city.
You don't need to be a backpacker or a vagabond to travel alone. Every destination has something for everyone. All you need to do is figure out what you are looking for in a place and you are set.
What do you look forward to in a place? What are the prerequisites that you expect out of a destination?
Well, the more sophisticated answer to this would be that I do a lot of research before visiting a place. It helps me to understand what the place has to offer… the must do's and don'ts, etc, etc, etc.
And the more "my kinda" answer would be any place that lets me have a lot of fun and helps me make tons of memories and have the time of my life.
Yes, travelling is a lot of fun. But you do need to keep in mind that you have your essentials with you. I usually have a whole list of things that I have immediate access to.
Here's what's in my carry-on bag:
1. Electronics: phone and charger, universal adapter, head phones or ear phones, wire pouch (to contain the mess), iPad and charger (I load movies and books that I would like to watch/read on long flights in case there is no in flight entertainment. Also, I can't sleep during travel)
2. Wallet and ID
3. Travel document case:  itinerary, passport, tickets, hotel reservations, list of contact numbers (there are a variety of pouches that look like cases to keep all your travel documents in one place. This is better than to have a file to carry along)
4. Small light weight notebook and pen (I like to document things that I find interesting for my blogs. They also come in handy to fill out forms or take notes.)
5. Scarf / shawl
6. Travel Kit - eye mask, ear plugs, pair of warm ankle socks (I get very cold), inflatable neck pillow, chap stick, travel pack lotion (my skin gets really dry in air-conditioned environments), facewash, basic makeup (light foundation, kohl, mascara, lipstick), body mist (100ml)
7. Basic first aid kit: antacids, anti-allergens, aspirin, band-aids, cloth bandage, burn ointment, pain relief spray.
8.  Pair of light weight and wrinkle free tops (in case of wardrobe malfunctions and loss of baggage)
9. Sunglasses
10. Extra combination lock
Don't freak out… this is just me being me. You probably don't need all of this.
5 essentials that you carry in your hand luggage
I like to travel light. I keep the bare minimum in my carryon bag like Kindle, passport, cash, prints of travel documents and obviously, my phone.
Whether you are travelling solo or in a group, planning is essential to ensure that you are not bothered with details while on your trip.
How do you plan your travel?
I love planning! I am totally Gujju that way!
However, it depends upon the kind of company I have on the trip. If I'm travelling with someone who's allergic to planning then I take over (this includes major excel sheets of how, when, what and the works!). If my friends are planning then I let them be. But I love going to unconventional places and not mainstream tourist locations.
You might be thinking that you need to have a lot of courage to venture into the world alone. Yes, it is partially true if you haven't ever. But should that stop you from doing something for yourself? I don't think so.
5 trips for women who want to travel alone but are too apprehensive about it
This might sound very preachy but… DO IT! DO IT! DO IT! DO IT!
It is the most liberating and exhilarating feeling in the world to be out of your comfort zone. Also, nobody is watching what you are doing… so go ahead and have fun!
Don't over think it. Because then it will never happen.
Secondly, as much as you would like to have a great time, please remember that you are responsible for yourself. You need to be alert at all times, dress appropriately depending upon the kind of place you are in and the kind of people around you, understand basic local things like where you should not go (if you've seen the movie Taken, you know what I mean), how you should speak to the locals.
Lastly, don't get intimidated by the attention that you get. Indians are an exotic race and people in other countries do tend to give more attention to us. It's not that they have a negative intention but their culture could be more open than ours. So, don't be afraid of meeting new people, interact, enjoy good conversation. I've made great friends abroad!
I hope we have piqued your interest in travelling solo. But there still is something that we need to tell you. There will always be something that you miss out upon. Don't regret that. It is about enjoying yourself in the amount of time you have. Yes you will make mistakes on your first trip and these mistakes will help you plan better.
We've all made mistakes while travelling. I've landed up in an airport without a visa while travelling to Malaysia because people told me that they have visa on arrival. They do not! I've happily greeted a shopkeeper with a "Chao buoitoi", which I thought meant "good evening", but apparently, I was referring to male private parts. And yes, I got chased out of the store by a pretty offended Vietnamese shopkeeper.
Mistakes that you have made while travelling?
 I travelled with people who were not compatible with me. I always have a plan for each day while travelling and I like sticking to it. Mainly because travel is expensive and you only get that many days there to experience all that you possibly can and I personally don't like to waste time lazing around unnecessarily…
I once landed up in Sri Lanka with the wrong passport number mentioned in my ETA form.
Thinking about that place you have been dreaming about all your life and whether you can go there by yourself? Well, don't just think about it.
What is your dream destination?
Australia. It has beaches, mountains, lot of open spaces, lot of outdoor activities, New Zealand, Fiji Islands are all close by and good food courtesy MasterChef Australia!
By when do you think you want to achieve Australia?
In the next two years. I am accumulating miles for a long trip!
Start planning. You do realise that you would have to plan your finances as well. Give yourself a goal and timeline. This usually helps people who procrastinate a lot (like yours truly). You would be doing this for yourself. And remember … you deserve it!
Deea is an Influencer Marketer, content creator, traveller, photographer and blogger.
Last Updated Mar 31, 2018, 6:48 PM IST