Speaking to the writer, Puneeth walked down the memory lane and spoke about how Dr Rajkumar celebrated his birthday. His birthday was like a festival for the family, he said.
Appaji (Dr Rajkumar) was very happy to celebrate his birthday. As far as I remember, wherever he is shooting, she would be at home in Bengaluru on his birthday. It was a big day for his fans too. A large number of people from all over the state would come to our house in Sadashivanagar to wish Appaji on his birthday.
Appaji never disappointed any of his fans. Instead, he always looked enthusiastic to be with and speak to the people coming from distant places to wish him. Many would carry a cake with them. Appaji never said no any fan, he would cut every cake that was brought to wish him.
On the day of his birthday, we all at home had additional responsibilities. We had to look after the fans, guests, seniors from the film fraternity. We were more than happy to do all these tasks. It was really like a mega celebration at home.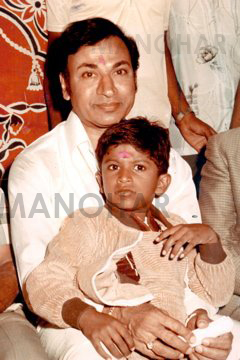 However, he would cut any number of cakes but did not like blowing the candle off. He would say, blowing the light off is not our tradition. So, he would clearly say no to candles. Even during anyone's birthday in the family, he would object if there were candles on the cake. Instead, he would ask us to light a lap (deepa) so that it keeps burning and gives light. Even to this day, we follow this practice.
I remember one occasion of Appaji's birthday when he turned 72. His fans had prepared as 72kg cake. Another group had printed Appaji's photo on the Kannada flag. When we woke up thousands of Kannada flags with Appaji's picture on it were flying in front of our house. Appaji had become emotional that day. I am happy to be a part of most of his birthdays and the celebration.
Remembering another incident, Puneeth said, "It was 50th wedding anniversary of Appaji and Amma in 2003. I can never forget that day. Thousands of fans had gathered in front of the house. Even seniors from the film fraternity had visited them at home and wished the couple.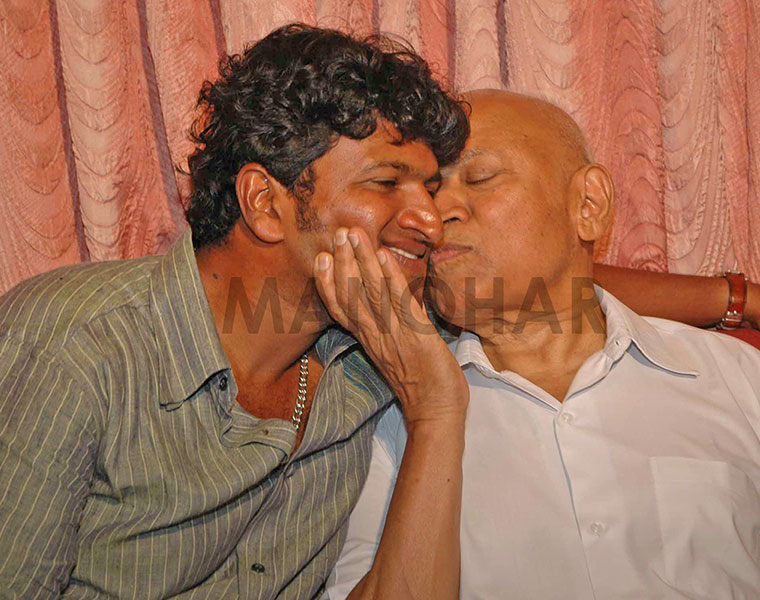 Every year, a day after the birthday celebrations, we all wished to take Appaji out for lunch. But he was never keen on it and sometimes budging to our force he would come along. But he did not like to eat food in costly restaurants. Thus we had to plan well and take him to the restaurant without his knowledge. Once we reach there, we would order his favourite dishes. We had to be careful not to show him the bill. If he were to lay his eyes on the bill, he would ask, 'What is the necessity of eating in hotel spending so much of money?' We all knew about his love for simplicity and tried not to force him for such matters.
Appaji's birthday is a special day for us. Every year, there would be a breaking news- either releasing of the movie trailer, teaser or announcement of the new project. We sternly believe that any project started on Appaji's birthday will bring us success. Many projects which were announced on his birthday have proved it.
This time too there will be a surprise, and it will be announced shortly, said Puneeth just before signing off.