Off late, film stars are a must to promote the jewellery advertisement as the company's brand ambassadors, bring gold closer to people's hearts. On the occasion of Akshaya Tritiya, here is an insight into the film stars bond with the gold.
In terms of Hindi movies, Jodha Akbar broke all the records with the quality and quantity of gold used in the movie. 200 kg gold jewellery used in this movie and it became a milestone in the Hindi film industry for this reason too.
Also Read: Akshaya Tritiya: Golden truth about Jodha Akbar: 200 kg gold, 70 goldsmiths, 50 guards!
Arundhati craze
In South India, Arundhati in 2009 and Baahubali in 2015 attracted a large number of women to the theatres not only for the story and actors but also for the grand jewellery used in the movies. Arundhati was dubbed in Tamil too. It is said that women watched the movie more than once to see the protagonist Anushka Shetty and her new avatar with traditional gold making her look all the more powerful.
Also Read:  Akshaya Tritiya: Anushka became Arundhati after wearing 22 kg gold!
Mythology magic
When compared, the south film industries have the most number of period and mythology-based movies. In fact, Telugu (Tollywood) has the most number of movies made with grandeur. Films of this genre are rich in look and jewellery was designed according to the period and plot. From Chandrahara, Kantheehara, Nagamudrike, Tholbandi, Kalandige, Dabu, Tolbille, Kadaga to bangles everything was prepared as a set work. The jewellery for these films was made by brass metal and was given a shining finish to make it look rich.
Initially, Kannada and Telugu films too were shot in Chennai studios. Thus Chennai's Giris and New Filmo Craft shops were famous for making the artificial jewellery. They were renting it out on a daily or monthly basis to the film crew.
Heroines who said 'I will not wear artificial jewellery'
In films with social, family background most heroines refused to wear artificial jewellery. Especially heroines from south India used to store a good quantity of gold jewellery so that they could use original gold for the films.
Yesteryear heroines MV Rajamma, B Sarojadevi, Savithri, Devaki, Vanishri and others had their own set of original jewellery. Especially during the scenes of marriage, function, parties or festivals, they wore their own jewellery.
However, this trend saw a setback as the heroines of the 70s and 80s films did not use heavy jewellery.
Also Read: Akshaya Tritiya: Do you know why Dr Rajkumar compared gold to worms?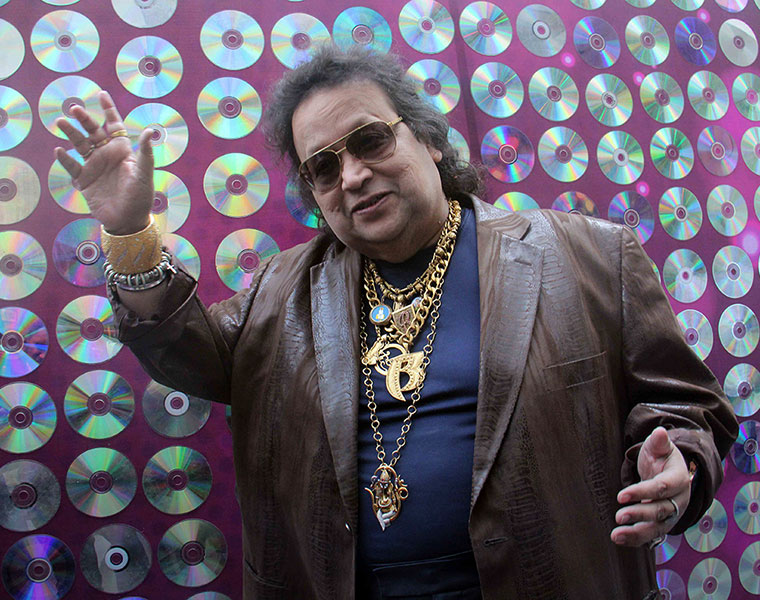 Golden stars
Bappi Lahiri, music composer of popular Hindi songs stands first in the list of actors who loved wearing gold. He wears kgs of gold and is never bored of trying a new heavy chain, bracelet or a ring. However, though no South actor can compare himself to Bappi Lahiri, many were gold lovers.
Southern heroes MGR and NTR always wore golden bangle called kadaga and golden rings on most fingers. Music director Shankar Ganesh and Chakravarthy loved gold a lot.
Hollywood Gold
Hollywood has the first say in trending a particular fashion. The stars of Hollywood have also created a trend in wearing stylish jewellery. Though they love platinum and diamond, this style played an important role in dictating the style statement of the Bollywood retro glamour movies.
The Heart of the Ocean necklace in the movie 'Titanic was in fashion at least for a decade. The necklace used in the movie 'Pink Panther' in 1963 was sold for a whopping amount in 2010. The necklace used by Audrey Hepburn in the movie 'Breakfast at Tiffany's' became popular by the name of the actress.
Star and Brand
From Hema Malini to Sonam Kapoor all actresses are a part of some or the other jewellery brand. Tata made Amitabh and Jaya Bachchan as Ambassador for their Tanishq brand. This trend is popular among the heroes and heroines of the south too. Kalyan Jewellers, Malabar Jewellers, have made pacts with the heroines and signed them as brand ambassadors.
However, why are heroes roped in for jewellery advertisements? The shop owners feel that men are needed to attract women. Heroines cannot be the brand ambassador for a long time as they are not in demand for a long time.
So, actors and actresses are an inevitable part of the jewellery business, and it is true they can easily make people fall in love with the jewellery.