Remember these instances when a SIX smashed valuable furnitures
There have been numerous instances of batsmen hitting a ball out of the park. Few of these shots have even smashed windshield/glasses of the vehicles.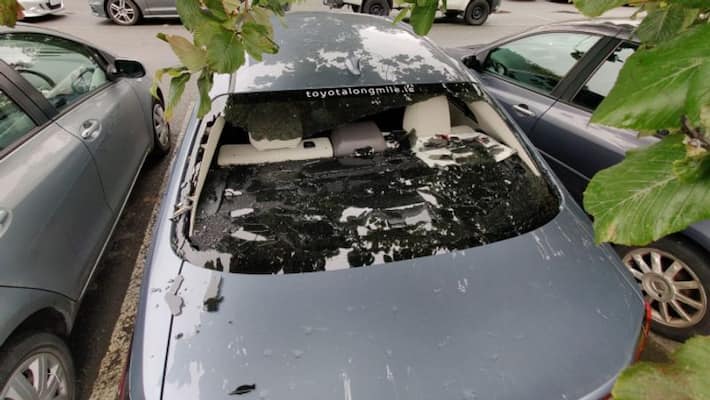 In the sport of cricket, watching a batsman hit a six is an enjoyable moment. Furthermore, if that very shot happens to sail the ball out of the park, it's even breathtaking.
To date, plenty of batsmen have managed to do so. However, what many wonder is what happens when the ball lands beyond the walls of the ground? From falling onto the nearby river to interrupting golf play, there have been numerous weird instances.
However, it is highly surprising and concerning if the ball happens to smash a vehicle, especially a windshield or glass of a parked carrier, just outside the ground premises. Here we present some of those moments:
Brett Lee does it with the bat!

Australia's Brett Lee was deemed one of the fastest bowlers in world cricket during his prime days when he bowled at around a pace of 150 km/h. However, he also had a unique talent of pulling off miracles with the bat. During the 2000 ICC Champions Trophy tie against India in Kenya, Lee hammered pacer Zaheer Khan over the long-on, as the ball landed on a car, parked right outside the stadium, while the windshield bore its symbol.
Jesse Ryder dents the roof of Ian Smith

New Zealand opener Jesse Ryder had a short stint as a cricketer, but he was famous for hitting the big ones. During the 2014 Super Smash T20 league, playing for Otago Volts, Ryder smashed Luke Fletcher of over the fine-leg, as the ball landed right outside the walls. However, it landed on the roof of a car, denting it in the process. What was even interesting that the car belonged to match commentator Ian Smith, who happened to be describing the incident on-air at the moment. Furthermore, it happened to be his rented car.
Kevin O'Brien smashes his windshield
Kevin O'Brien has been Ireland's veteran for long now and continues to deliver his valuable services to the nation. As he is a regular in the domestic circuit, it was in August 2020, when while playing for Leinster Lightning, O'Brien launched a barrage against the bowlers of North West Warriors during the Test Triangle Inter-Provincial T20 Series at Pembroke.
While O'Brien smashed eight sixes in the match, one of his shots sailed the ball out of the venue, as it landed outside the premises. However, there was a sound of it hitting a piece of furniture, which happened to be none other than his car, as his windshield was completely shattered.
Last Updated Sep 15, 2020, 3:44 PM IST