ODI World Cup 2023: Aussie skipper Pat Cummins rules changes, rest for bowlers amidst workload management
Australian captain Pat Cummins has shared that he will be playing his best 11 consistently in this ODI World Cup 2023 without any chop and change or rest. The Australian management is not focusing on the workload management of players.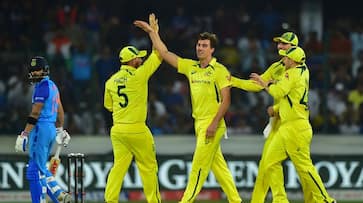 Australia skipper Pat Cummins has clearly stated that his team will not be adopting a chop-and-change policy in the ODI World Cup 2023. He also doesn't share the intention of workload management for his bowlers in the 45-day-long tournament in India. 
Various teams have been adopting chop and change, workload balance tactics for better functioning of their players. Teams are likely to follow the same in the ODI World Cup 2023 as management fears burnout for players playing long and consistently.
Also Read: ODI World Cup 2023: Afghanistan put up a lasting performance with bat, do they fancy themselves with 272 runs?
However, Pat Cummins has suggested that the Australian management is not actively looking to exercise the policy of rest for their bowlers. He believes that the World Cup platform is huge and that fielding the best 11 is important against every team.
Pat Cummins said, "The intention is to try and play every game. We won't be rotating bowlers unless we have to.... (if) someone is feeling extremely fatigued, someone is managing a niggle and needs rest.
The intention is to try and have everyone on the selection table for each game. You pick your best 11. It's a World Cup, you can't really take any game lightly. Probably later on in the tournament, we'll look at that if we need to. But at the moment, yeah, there's no plans."
However, it is not clear whether such an approach will be sustainable in such a long tournament, especially in the Indian conditions. The start of the tournament is already witnessing soaring temperatures and players are already finding it hard to stay on the field for longer durations.
The Australian management will need to think deeply about the workload management plan in this World Cup. This will only increase the efficiency and longevity of their players' short-term and long-term cricketing careers.
Last Updated Oct 11, 2023, 8:16 PM IST