A legendary visit! Sachin Tendulkar meets Afghanistan team; Rashid Khan calls moment 'special' (WATCH)
ICC Global Ambassador Sachin Tendulkar boosts Afghanistan cricket team's morale ahead of crucial ODI World Cup 2023 clash against Australia at Mumbai's Wankhede Stadium on Tuesday.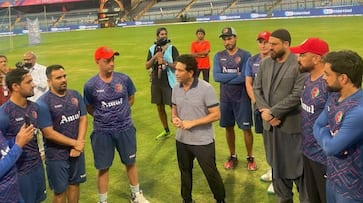 Cricket icon Sachin Tendulkar, a Global Ambassador for the International Cricket Council (ICC), recently visited the Afghanistan team ahead of their crucial ODI World Cup 2023 clash against Australia at the Wankhede Stadium. The Afghan team, brimming with confidence, views this match as pivotal for their chances of securing a spot in the tournament's semi-finals. Sachin's surprise appearance during their practice session aimed to elevate the team's motivation levels.
Star spinner Rashid Khan expressed the significance of the moment for both himself and the entire team. "It is a special moment for everyone," he told cricketworldcup.com. "Meeting him on a very special occasion here in one Wankhede, I think it's a different feeling. And definitely, it's given lots of positive energy to the guys, to the team. It's a kind of dream for lots of players to meet him," Rashid added.
Rashid expressed gratitude to Sachin for meeting the team just before their crucial encounter against Australia. "I just want to say thank you so much for coming here. I know lots of people start cricket watching you and you are a role model for everyone back home in Afghanistan," Rashid said.
"On behalf of all Afghans, a huge thank you for your visit. Your presence during this critical time means a lot to us. I'm certain that meeting you will instill tremendous energy and positivity in the team. It's been a dream for everyone to meet you," Rashid extended his appreciation.
The Afghanistan team is set to face Australia in a high-stakes match on Tuesday, followed by a fixture against South Africa in Ahmedabad on Friday.
Last Updated Nov 7, 2023, 8:11 AM IST