MS Dhoni gets played by daughter Ziva while trying to eat biscuit (Watch video)
MS Dhoni is happily retired from international cricket since last year, while he features for Chennai Super Kings in the Indian Premier League. As a result of his retirement, he gets to spend more time with his family, especially his daughter Ziva and seems to be having a great time.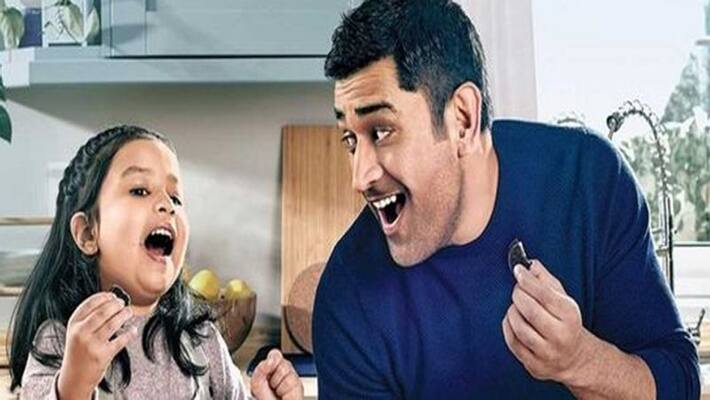 Former Indian skipper seems to be happily enjoying his retirement life. While fans are still left heart-broken because he would never retake the field in international cricket, he continues to do so in the Indian Premier League, leading Chennai Super Kings.
Following his international retirement last year, Dhoni seems to have taken up interests outside cricket. However, most importantly, he gets to spend more time with his family, especially his five-year-old daughter, Ziva.
Ziva recently made her television debut in an ad for the famous biscuit brand Oreo by Cadbury. In the ad, she was seen along with Dhoni himself, as both got candid while eating the biscuit.
Recently, a new video of the same was shared on Ziva's Instagram handle. It was not an official ad video by Oreo but behind the scene video, where while shooting, Ziva tries to feed Dhoni with the biscuit but keeps pulling away as Dhoni goes ahead to grab it with his mouth. Meanwhile, Ziva continues to taunt and troll Dhoni by laughing out all along.
ALSO READ: From MS Dhoni to Rohit Sharma: 5 prominent Indian cricketers who are blessed with daughters
Watch the video here:
Here is the official video of the same:
Numerous videos have been shared on Ziva's account. In one of the videos, Ziva is checking out the vegetables she collected from Dhoni's farm.
Dhoni is currently in the farming sector, as he is growing his farm in his huge Ranchi farmhouse, which produces fruits and vegetables. Furthermore, these fruits and vegetables are being sold in the local market and imported to the United Arab Emirates, as the Jharkhand Agriculture department is handling it.
Last Updated Mar 18, 2021, 1:11 PM IST