KPL 2019: Historic 39-ball century, 8 wickets by record-breaking Gowtham sets him apart
While making it to the playoffs of KPL 2019 with one game left in their league itinerary was in itself a feat, how the Ballari Tuskers got there was the stuff of legends. Gowtham broke records and set the bar high with his 39-ball century and 8 wickets. In Match 14, Belagavi Panthers scored their first win.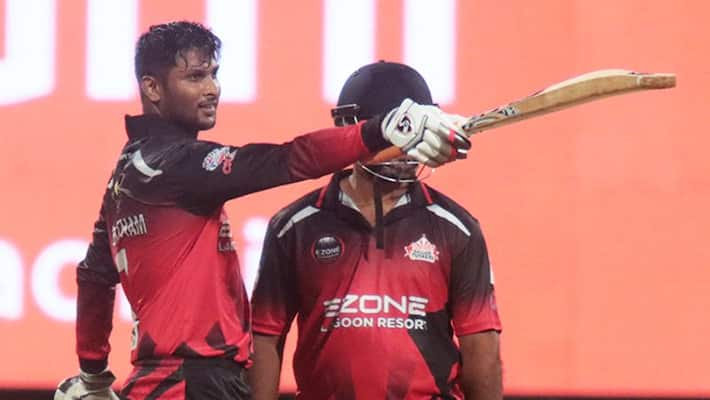 Bengaluru: K Gowtham scored the fastest century in KPL history and picked up an astounding eight wickets to power Ballari Tuskers to a facile 70-run win over Shivamogga Lions in the battle of top two at the M Chinnaswamy stadium on Friday. 
Tuskers finished on a season-high 203 for 3 in 17 overs in a rain-curtailed contest before bundling the Lions out for 133 all out in 16.3 overs. With this win, the Tuskers ended on top of the table with eight points from five games to guarantee themselves a spot for the playoffs of the Redmi Karnataka Premier League, powered by Dream11.   
Gowtham, pushed up the order to number 3, decimated the Lions' attack by smashing his hundred from 39 balls with six fours and 10 sixes. He went on to score the highest individual score in KPL with an unbeaten 134 from a mind-boggling 54 balls, including seven fours and 13 sixes. Mayank Agarwal was the man on top of both those tables with a high score of 119 and a century from 45 balls.
Gowtham also topped the most-sixes-in-an-innings chart, erasing Mohammad Taha's mark of nine sixes in his 83 against Bijapur Bulls in 2017.
The Lions' response was a good one with Akshay Ballal (41) and Pavan Deshpande (45) firing, but Gowtham spoilt that party too, picking up eight wickets, the most for a bowler in an innings, for a mere 15 runs in four overs. The previous KPL record was held by Nikin Jose, who picked up 6 for 11 runs in 2015. 
"It was just one of those when you're in the zone and everything comes off," said Gowtham after the match. "I really can't say much more about it. It's just one of those days."
Gowtham was on a hat-trick on two occasions, but he missed out on both those instances. He did pick up three wickets off three balls the first time around but for the wide he sent down after picking up the first two.
Earlier, CM Gautam's decision to bat first raised some eyebrows early on, but Gowtham rewarded his skipper's decision with a blitz of unprecedented proportions. Lions' bowlers were guilty of dropping the ball short early on, but once Gowtham was set, there was nowhere for them to bowl. SP Manjunath faced the full brunt of Gowtham's blows, conceding four sixes in a row in the 12th over. 
However, Gowtham was put down on four occasions, none easier than the one Arjun Hoysala grassed off the bowing of Manjunath when the batsman was on 17. HS Sharath dropped the batsman on 49 and 80, while Pavan Deshpande put him down on 74. Luck did play a part, but this innings will be remembered for its brute strength and Gowtham's nonchalance at the crease.
"I didn't think too much about that (dropped chances). If I did, I don't think I would have approached the innings the way I did. The plan, from the start of the day, was to go after the bowling …Honestly, I was just trying to do my best and help the team reach a big total," Gowtham said.
There was also a not-so-little matter of picking up eight wickets in an innings to complete what was, and could potentially be for some time to come, his finest day in the office. 
"With bowling, I have been working on a few variations, nothing too complicated. It's just about bowling it in the right slots repeatedly. Once again, it is just one of those days when everything comes together," said Gowtham, who was on top of the world.
Brief scores: Ballari Tuskers 203 for 3 in 17 overs (Abhishek Reddy 34, K Gowtham 134 not out) vs Shivamogga Lions 133 all out in 16.3 overs (Akshay Ballal 41, Pavan Deshpande 45; K Gowtham 8-15) by 70 runs.
Match 14
In match 14, Belagavi Panthers scored their first win on Friday.
Up against Bengaluru Blasters, Manish Pandey and Co pulled off an eight-wicket win in their pursuit. The Blasters scored 110 for 8 in 20 overs   
Pandey's fiery 58 not out and his 76-run third-wicket alliance with Abhinav Manohar (22 not out) guided the Panthers to 115 for 2 in 11.5 overs after they elected to bowl first.
Having failed to defend 180 against the Hubli Tigers on Wednesday, the bowling unit was under pressure to deliver, but the Blasters made their life easier by throwing their wickets away at the most inopportune moments.
Blasters crawled their way to a meagre 30 for 1 in the first five overs. MB Darshan, the paceman, was the pick of the bowlers, finishing with three wickets. Wickets in regular intervals and a stringent set of overs meant the Blasters could only reach 49 runs in 10 overs.
To Blasters' dismay, the next ten over only yielded 61 runs. The 50-run alliance between Jonathan Rongsen (28) and Nikin Jose (21) was the sole bright spot in an otherwise poor batting show.
Though rain was a feature in the game, no overs were lost, and the Panthers had plenty of time to chase down the small total. 
Pandey took the Blasters to the cleaners. Manohar was no less attacking as the duo chased it down in an innings which lasted a mere 71 balls.
Brief scores: Bengaluru Blasters 110 in 8 in 20 overs (Sharath BR 32, Jonathan Rongsen 29, Nikin Jose 21; Zahoor Farooqui 2-23, Darshan MB 3-27, Ritesh Bhatkal 2-7) vs Belagavi Panthers 115 for 2 in 11.5 overs (Manish Pandey 58 not out, Abhinan Manohar 22 not out) by eight wickets.
Last Updated Aug 24, 2019, 11:42 AM IST