ODI World Cup 2023: Shakib Al Hasan reveals 'Timed Out' appeal wasn't his idea
In a stunning revelation, Bangladesh's captain, Shakib Al Hasan, discloses that the controversial 'timed out' dismissal of Angelo Mathews during the Cricket World Cup 2023 was not his idea.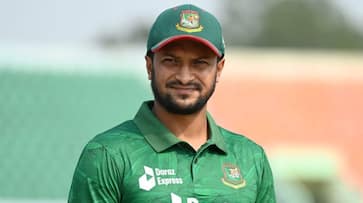 Shakib Al Hasan has been under heavy scrutiny from fans and experts following Angelo Mathews' 'Timed Out' dismissal during the Cricket World Cup 2023. In the match between Sri Lanka and Bangladesh, Angelo Mathews made history by becoming the first cricketer in international cricket to be dismissed 'timed out.' This occurred because Mathews wasn't prepared to face his first ball within two minutes of the previous dismissal, leading to an appeal from Bangladesh captain Shakib Al Hasan. The incident resulted in Mathews strongly criticizing the situation and Shakib facing criticism from fans and experts. However, after the match, Shakib disclosed that the appeal wasn't initially his idea.
Shakib explained, "One of our fielders came to me and said that if I appealed, he would be out. The umpire asked me if I was serious. It's within the rules; I can't say whether it's right or wrong. I felt like I was in a battle. I did what I had to do. There will be discussions. Today, that 'timed out' decision worked in our favour, I won't deny that."
Although the specific fielder involved wasn't identified, it is likely that Najmul Hossain Shanto was the one, as he was seen conversing with the captain and participating in the appeal throughout the incident.
On Monday, Mathews described Bangladesh's decision to dismiss him via 'timed out' as "disgraceful" and expressed his shock. Mathews became the first batsman to be 'timed out' in international cricket as Bangladesh eliminated Sri Lanka from the World Cup with a three-wicket victory in a dramatic match held amid severe air pollution in New Delhi.
"I haven't done anything wrong. I had two minutes to prepare, which I did, but there was an equipment malfunction, and I don't understand where common sense went. It was disgraceful from Shakib and Bangladesh," Mathews stated during the post-match press conference.
"If they want to play cricket in such a manner, lowering themselves to that level, something is significantly wrong. Even if I was slightly late, past my two minutes, and the rule dictates that I must be ready in two minutes, I still had five more seconds to go. It was just a matter of common sense. I'm not talking about 'Mankading' or obstructing the field; it is absolutely disgraceful," emphasized the experienced Sri Lankan cricketer.
Also Read: ODI World Cup 2023: England and Netherlands battle for Champions Trophy qualification
Last Updated Nov 7, 2023, 6:52 PM IST