ODI World Cup 2023: Mind-blowing Maxwell's double ton fires Australia to 3-wicket win over Afghanistan
In an extraordinary performance, Glenn Maxwell's phenomenal double century led Australia to a thrilling victory over Afghanistan during the 2023 ODI World Cup, marking a historic moment in cricket.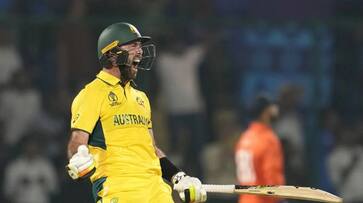 In a stunning display of skill and determination, Glenn Maxwell's explosive double century played a pivotal role in securing a thrilling 3-wicket win for Australia over Afghanistan in the 2023 ODI World Cup.
In a breathtaking one-day innings that will be remembered for ages, Maxwell orchestrated a stunning rescue mission for Australia against Afghanistan, propelling them to a remarkable three-wicket victory in Mumbai. Australia's plight appeared dire when Mitchell Starc's dismissal left them at 91-7, chasing a highly competitive target of 292 set by Afghanistan.
However, Maxwell, aided by a dropped catch and some lax fielding, embarked on a rampage, producing an unbeaten 201 runs from just 128 balls. His efforts received crucial support from captain Pat Cummins, with whom he forged an unbroken eighth-wicket partnership worth 202 runs.
Following his epic innings, Maxwell commented, "I feel shocking! It was obviously quite hot when I was fielding, and I haven't done a lot of high-intensity fielding in the heat, but it got hold of me today. Luckily, I was able to stick it out to the end."
Australia had faced the prospect of securing a World Cup semi-final berth, and Afghanistan's most substantial total of the tournament, 291-5, further intensified the challenge. Ibrahim Zadran's unbeaten century, comprising 129 runs off 143 balls, along with all-rounder Rashid Khan's 35 not out from 18 balls in the latter stages, powered Afghanistan to their commanding score.
Despite winning the toss, Australia struggled to claim wickets on a pitch that had been unkind to bowlers throughout the tournament. Maxwell's contribution with the ball was vital as he dismissed Afghanistan's Rahmat Shah during a good spell.  Afghanistan, known for their overachievement in World Cups, will still aim to keep their own semi-final aspirations alive.
Also Read: Afghanistan vs Australia: Zadran credits legendary Sachin Tendulkar for landmark World Cup century (WATCH)
Last Updated Nov 7, 2023, 10:52 PM IST