David Warner apologises for breaking 'Billions of Hearts' after Australia's stunning victory over India
Australian cricket star David Warner has issued a heartfelt apology after a social media user accused him of shattering "billions of hearts" following Australia's triumph over India in the ICC Men's Cricket World Cup 2023.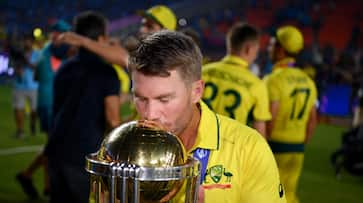 David Warner has expressed regret for shattering "billions of hearts" following Australia's victory over India in the World Cup final. A social media user accused the Australian opener of causing disappointment to a vast number of fans, prompting Warner's response to gain widespread attention.
In the aftermath of Australia's win, a fan tagged David Warner on X (formerly Twitter), accusing him of breaking a billion hearts. Despite this criticism, Warner's response has become a talking point. While extending an apology for the heartbreak, Warner also congratulated India for hosting a spectacular tournament.
Warner's post on X read, "I apologize; it was such a great game, and the atmosphere was incredible. India really put on a serious event. Thank you all." The post was a reply to a now-deleted fan post.
The ICC Men's Cricket World Cup 2023 concluded with a significant upset for Team India. Despite their dominant performance throughout the tournament, winning ten consecutive matches leading up to the final, Rohit Sharma & Co. fell short against Australia in the summit clash. Australia emerged victorious at the Narendra Modi Stadium, disappointing the home crowd expecting a historic third ODI World Cup win.
Highlighting India's dominance in the World Cup, six Indian players, including captain Rohit Sharma and the leading run-scorer Virat Kohli, featured in the ICC's World Cup Team of the Tournament Playing 11. Despite the individual accolades, the Indian squad had to settle for the runners-up medal. Looking ahead to the T20 World Cup next year, there is anticipation regarding whether Rohit Sharma and Virat Kohli will choose to be part of the shortest format.
Also Read: Pakistan Cricket appoints Umar Gul and Saeed Ajmal as Bowling coaches for Australia and New Zealand tours
Last Updated Nov 21, 2023, 5:16 PM IST