Coronavirus: Sourav Ganguly Foundation feeds the needy in Bengal; distributes protective kits to doctors
Sourav Ganguly Foundation (SGF) is helping the poor with food as the country fights against the coronavirus (COVID-19) pandemic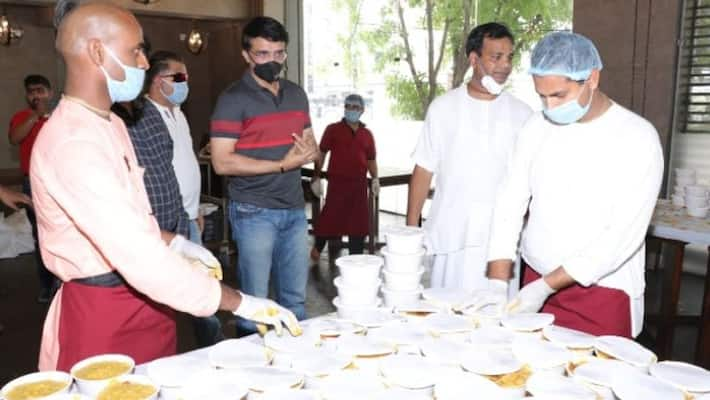 Bengaluru: BCCI president Sourav Ganguly, through his foundation, on Saturday (April 4) announced the he will help the needy with food in West Bengal as India continues its battle against the novel coronavirus (COVID-19) pandemic.
Former India captain Ganguly took to his Twitter account to say that his making a "small contribution" to serve people during these difficult times.
Also read: Sourav Ganguly donates 2,000 kg rice to Belur Math
"These r difficult times.A small contribution to the society from SGF to  serve people..Thank you to state and central government and all social  workers who are endlessly trying  to help the people of our country..we will get thru this @MamataOfficial @narendramodi @bcci (sic)," Ganguly wrote.
In a statement, Sourav Ganguly Foundation (SGF) said, "…in this battle Sourav Ganguly Foundation (commonly known as SGF) under leadership of Sourav Ganguly has decided to offer help in form of food."
Also read: List of cricketers who have donated to PM CARES Fund
It said SGF will feed 5,000 people everyday. "SGF will provide rice to Belur Math to feed the poor and has tied up with ISKCON to feed 5,000 people everyday. SGF will also work closely with Bharat Sevashram to provide needy people in terms of food.
"Our volunteers are visiting local orphanages and old age homes to understand requirement and arrange food for them accordingly. Special protective kit (Personal Protection Equipment, PPE) for doctors and nurses who are fighting the corona battle from forefront will be distributed from tomorrow (April 5) as they are working in very sensitive atmosphere."
It added, "Sourav Ganguly has personally contributed to the (West Bengal) CM relief fund and has also encouraged other sports personalities and business houses to contribute and join the battle against corona."
ISCKON's Kolkata centre said Ganguly had helped them to feed 10,000 people daily. Ganguly visited ISCKON on Saturday.
"From ISKCON Kolkata we were cooking food for 10,000 people daily. Our dear Sourav Da has come forward and extended all his support and has donated, which enables us to double our capacity to 20,000 people every day," Radharaman Das spokesperson and vice-president of ISKCON, Kolkata centre, was quoted as saying by news agency PTI.
"Under his captaincy, the monks of ISKCON Kolkata are enthused to play this long Test match and fight together the battle against hunger for many families here in Kolkata. I am a great fan of Dada and have watched many of his innings on the cricket ground. But his innings of feeding 10,000 people everyday is the best one. ISKCON expresses its immense gratitude to Ganguly," Das added.
Last Updated Apr 4, 2020, 5:17 PM IST