WeWork founder Adam Neumann living in lavish new Florida mansion worth $40 million as company goes bankrupt
The article covers WeWork's recent bankruptcy filing, Adam Neumann's extravagant lifestyle and new ventures post-WeWork, including a luxurious Florida home, residential real estate investments, and the launch of a startup, amid reports of low morale within the company.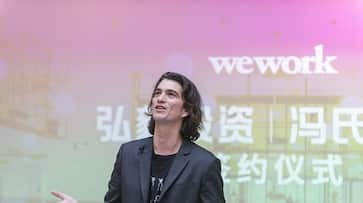 Last week, WeWork, the office space-sharing giant, which has been grappling with the lingering impacts of the Covid-19 pandemic and its unsuccessful initial public offering in 2019, filed for bankruptcy in the United States. Despite its financial struggles, WeWork's founder, Adam Neumann, has been in the spotlight due to his extravagant lifestyle. Neumann, an American-Israeli entrepreneur, was ousted from WeWork after his unsuccessful attempt to take the company public in 2019. Following his departure, he received a substantial payout. Now, reports from The New York Post reveal that Neumann is residing in a lavish new home in Florida. Despite WeWork's challenges, Neumann is actively involved in building his new company.
Also read: From a $47 billion start-up to bankruptcy: WeWork's dramatic decline explained
At 44 years old, Adam Neumann still commands a substantial net worth of $1.7 billion and maintains ownership of millions in real estate. Presently, he is embracing a life of luxury in a magnificent $40 million mansion alongside his wife, Rebekah, and their six children. Neumann's residence is the result of a noteworthy off-market deal, where he acquired two Miami properties from local investor Joseph Imbesi for a total of $44 million, according to Fox News.
One of the properties, initially purchased during the off-market transaction, was in the process of having a 14,500-square-foot house constructed at the time. This property now serves as the Neumann family's full-time residence. The sprawling mansion is characterized by its breathtaking waterfront views, opulent amenities, and extravagant features, reflecting Neumann's continued indulgence in a lavish lifestyle despite WeWork's financial challenges.
The New York Post quoted a source as stating, "Adam skateboards all the time, all over town, taking business calls. Everybody runs into him — he's very friendly. He stops and kibitzes with people."
Presently, Adam Neumann is said to be actively seeking investors for a new startup, asserting that this venture aims to revolutionize the home space and leave a lasting impact on the world.
According to The Post, Adam Neumann shares a close friendship with Jared Kushner and Ivanka Trump, along with their children. Notably, their residences are conveniently situated just 10 minutes away from each other. The couple is also reported to be actively involved in the Jewish community.
Before his exit from WeWork, Neumann invested a substantial $90 million in acquiring luxury residential real estate. These properties spanned across various prominent locations, including the Hamptons, New York City, Westchester County, New York, and San Francisco, as detailed by The Wall Street Journal. Last year, Adam Neumann introduced a new venture named Flow, focusing on operations within the residential real estate sector.
Also read: Co-working giant WeWork files for bankruptcy in US with liabilities ranging from $10 to $50 billion
Notably, Neumann founded WeWork in 2010, and by 2019, the company had reached a valuation of $47 billion. Upon his departure from WeWork, substantial wealth was amassed as the company geared up for another public offering, this time through a special purpose acquisition company (SPAC). In 2021, SoftBank reportedly paid $480 million to Neumann for half of his remaining WeWork stock as part of the SPAC process. Despite being removed from a management position years earlier, it is estimated that Neumann garnered over $770 million in cash from the 2021 SPAC transaction alone.
In a recent statement, Adam Neumann expressed his disappointment over WeWork's bankruptcy filing, noting that witnessing the company's struggles has been challenging for him. Concurrently, a former WeWork staffer shared with The Post that morale within the company is at a low point, describing it as "horrific." The source added, "There is no company culture and everybody is just watching the stock go down, down, down."
Last Updated Nov 14, 2023, 2:52 PM IST