Petrol, diesel prices today, October 28: Rates hiked again; check the cost in your city
Petrol and diesel prices hiked: In Mumbai, petrol is being sold for Rs 114.14 per litre while in Delhi, the petrol price stands at Rs 108.29 per litre.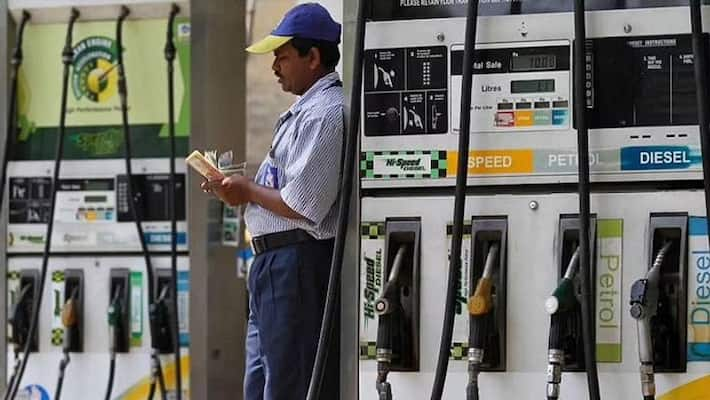 Another day, another increase in petrol and diesel prices. Oil marketing companies once again hiked the fuel prices to newer record level across the country on Thursday. In fact, according to some reports, petrol now costs 37.07 per cent more aviation turbine fuel pumped into civilian aircraft. 
Here is how much petrol and diesel cost after cost revision was announced by Hindustan Petroleum, Bharat Petroleum and Indian Oil.
Bangaluru
Petrol - Rs 112.06
Diesel - Rs 102.98
Chennai (Per Litre)
Petrol - Rs 105.13
Diesel - Rs 101.25
Kolkata (Per Litre)
Petrol - Rs 108.78
Diesel - Rs 100.14
Mumbai (Per Litre)
Petrol - Rs 114.14
Diesel - Rs 105.12
Delhi  (Per Litre)
Petrol - Rs 108.29
Diesel - Rs 97.02
Bhopal (Per Litre)
Petrol - Rs 116.98
Diesel - Rs 106.38
Hyderabad (Per Litre)
Petrol - Rs 112.64
Diesel - Rs 105.84
Guwahati (Per Litre)
Petrol - Rs 104.30
Diesel - Rs 96.87
Lucknow (Per Litre)
Petrol - Rs 105.22
Diesel - Rs 97.98
Gandhinagar (Per Litre)
Petrol - Rs 105.14
Diesel - Rs 104.78
Thiruvananthapuram (Per Litre)
Petrol - Rs 110.54
Diesel - Rs 104.25
While the rate of global crude oil remains one of the main reasons why oil marketing companies have been increasing fuel rates, the high tax structure on petrol and diesel has also contributed majorly to the prices crossing the three-figure mark.
Even as people suffer from record petrol and diesel prices, the government has been passing the buck and refusing to cut the taxes on petrol and diesel. The Centre justifies the levies, stating that the money collected from the tax goes into building roads, funding Covid vaccines, constructing houses for the poor and other social welfare schemes.
Union Petroleum Minister Hardeep Singh Puri was quoted some days ago as saying that the government was discussing with countries like Saudi Arabia and Russia from where the country imports fuel. To note, state and central government taxes account for nearly 60 per cent of the petrol retail price and 54 per cent of the diesel retail rate
As for the Opposition, they have so far been ineffective in countering the government over the soaring prices of fuel. The Congress party's decision to organise a protest against the rising petrol and diesel price for 15 days in November has been received with anguish on social media and has been termed as tokenism. 
Also Read
Bank Holidays in November 2021: Banks to be shut for 17 days this month; Details inside
'Alarmingly frequent': Airtel CEO writes a letter, warns users about cyber-fraud cases
Last Updated Oct 28, 2021, 10:04 AM IST