Auto Expo 2023 Exclusive: Hyundai COO reveals what makes IONIQ 5 different
In an exclusive interview with Asianet Newsable's Gargi Chaudhry, Tarun Garg, Chief Operating Officer of Hyundai Motor India, shared how IONIQ 5 is different and special. Check out the full video here.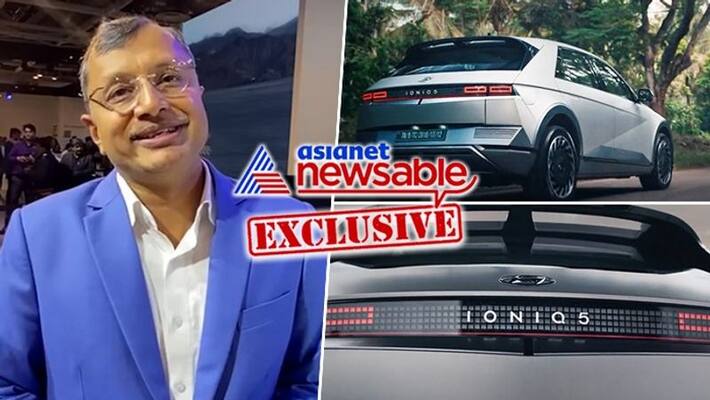 The IONIQ 5 may not be Hyundai's first attempt at making an electric vehicle (EV) but it certainly is the most significant one for various reasons. The price for the IONIQ 5 –  Hyundai's flagship EV was announced starting at Rs 44.95 lakh. The car can be booked for a sum of Rs 1 lakh, via Hyundai's website.
Speaking exclusively to Asianet Newsable, Tarun Garg, Chief Operating Officer of Hyundai Motor India, shared details about IONIQ 5 and how is it different and special. He said, "IONIQ 5, all electric car, is going to change the landscape of the electric vehicle. It is popular across the world."
Elaborating about the features of the newly-launched IONIQ 5, Garg said, "It gives flexibility in sitting. It has a flat floor and no partiton between the driver and passenger seat. Range is 630 kms. It can chagr from 10% to 80% in 21 minutes. You can charge electric appliance simultaneously."
"It has ADAS level 2, which gives a lot of safety. It's a great package at a very aggresive price for Rs 44.95 lakhs," he added. "We are trying our best. We are trying to bridge the gap, and COVID has taught us a lot of things," he said while elaborating over the delay of the vehicle deliveries across the market.
While concluding the interview and talking about 2023, Garg said, "The momentum is very strong. 2022 was the highest ever for Hyundai. There are more reasons to optimistic than pessimistic."
Last Updated Jan 13, 2023, 11:00 AM IST