Watch: 200 goats escape quarantine; roam streets of San Jose during coronavirus lockdown
Nearly 200 goats roamed the streets of east San Jose in the US during the coronavirus (COVID-19) lockdown. Watch the video here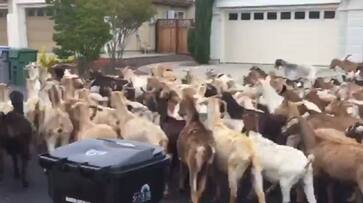 San Jose: It was a big surprise for the people of east San Jose when a herd of goats roamed the streets breaking quarantine amid the coronavirus (COVID-19) lockdown. A video was posted on social media which attracted a lot of funny comments.
Also read: 'This virus may never go away', says WHO
On Tuesday (May 12), nearly 200 goats escaped quarantine, breaking the fence and entered the streets in east San Jose in the US.
Also read: More than 4 children could die every minute due to direct impact of COVID-19, says UNICEF
The video was shared on Twitter by a user named Zach Roelands. The 71-second video has so far garnered over 3.4 million views.
"I'm dead When I got back from the store all the goats had broken through the fence and were recking havoc on our street This is the craziest thing to happen all quarantine (sic)," he wrote with the video.
NBC News reported, "(Zach) Roelands' father, Terry, told NBC Bay Area that he'd been using goats a few times a year to clear the brush, ever since the hill behind his home caught on fire about 15 years ago. This year, however, the goats were able to leave the area. According to Roelands, one of the goats started breaking the boards on the fence in an attempt to eat flowers on its other side and the other goats followed suit."
It added, "The goats then proceeded to roam the streets, until a neighbor was able to lead them back to the ranchlands. Though the incident only lasted minutes, it provided a bounty of laughs. Zach Roelands is asking those who enjoyed the video of the goats to make a donation to Feeding America, an organization working to combat hunger."
"All of a sudden they get onto our driveway and it was very exciting but I was a little bit nervous because the garage was open and I thought they might get into the garage," Amit Patel told NBC Bay Area.
Last Updated May 14, 2020, 1:20 PM IST