US praises India for G20 Leaders' Summit, says 'Absolutely believe it was a success'
The United States on Monday lauded India for the G20 Leaders' Summit in Delhi, calling it a success. The G20 Leaders' Summit, held under India's presidency, wrapped up with enthusiasm on Sunday.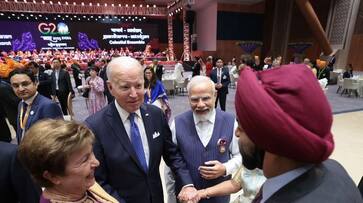 The G20 Leaders' Summit, held in Delhi on Sunday under India's presidency, was hailed as a "absolute success" by the United States. In a press briefing on Monday, the US State Department official spokesperson Matthew Miller told reporters, "We absolutely believe it was a success. The G20 is a big organisation. Russia is a member of the G20. China is a member of the G20." The spokesperson responded to a media query on whether the G20 Summit was successful.
He responded, "There are members who have a diverse range of views," when questioned about Russia's exclusion from the New Delhi Leaders' Declaration. "We consider it to be a very significant statement that the organisation was able to make that calls for respecting territorial integrity and sovereignty and states that those principles should not be violated because that is precisely what Russia's invasion of Ukraine is all about," he added.
The G20 nations said on Saturday that the "use or threat of use of nuclear weapons is inadmissible" in reference to the conflict in Ukraine.
"The peaceful resolution of conflicts, and efforts to address crises as well as diplomacy and dialogue are critical. We will unite in our endeavour to address the adverse impact of the war on the global economy and welcome all relevant and constructive initiatives that support a comprehensive, just, and durable peace in Ukraine that will uphold all the Purposes and Principles of the UN Charter for the promotion of peaceful, friendly, and good neighbourly relations among nations in the spirit of 'One Earth, One Family, One Future'," the New Delhi Declaration read.
The G20 members urged all nations to maintain international law's fundamental tenets, including as territorial integrity and sovereignty, international humanitarian law, and the multilateral structure that protects peace and stability. India served as the host nation for the first time for the G20 Summit. On September 9 and 10, New Delhi hosted the G20 Summit.
 
Last Updated Sep 12, 2023, 8:52 AM IST