Shocking! 22-year-old Italian woman gets 20 body modifications to transition into a cat; plans for more
The article explores a 22-year-old Italian woman's journey of extensive body modifications to resemble a cat and the impact on her identity and societal perceptions, as documented on social media.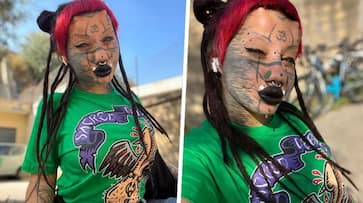 A 22-year-old woman from Italy, Chiara Dell'Abate, has garnered attention for her unique desire to transition into a cat, and she has embraced this transformation through extensive 20 body modifications, according to a report by the New York Post. Using the username Aydin Mod on social media, she has documented her journey on TikTok, amassing millions of views.
Dell'Abate's journey began when she received her first piercing at the age of 11, setting her on a path of body modification. She now boasts around 72 piercings, with modifications including punched nostrils, a split tongue, 0.8-centimeter upper lip piercings, and a 1.6-centimeter inner labia piercing.
In her own words, "I'm thinking that I would be a pretty cool cat lady." In one of her TikTok videos, she is seen flicking her split tongue through two large holes above her lips. Dell'Abate has also undergone blepharoplasty, a surgical procedure that can modify the upper and lower eyelids to correct defects and enhance the eye area aesthetically.
Her transformation doesn't stop there. She has added four horns, six genital beads, eyeball tattoos, pointed ears, permanent eyeliner, forehead implants, and claw-like nails. She even had her nipples removed to achieve more cat-like features. Despite these alterations, she sees herself as a human cat and is enthusiastic about how body modifications can transform the human form. "It's crazy to see how much the human body can change and what you can actually achieve from body modifications," she said.
Dell'Abate emphasizes that becoming a cat lady suits her more than appearing as a cartoon character. "I think becoming a cat lady is more appropriate for me as I don't really want to look like a cartoon character. I have always loved cats, and I think I'll look really bold and fierce as a cat lady with the right body mods," she said.
However, she acknowledges that there is still much more to achieve to complete her cat-like look.  "I will need a cat eyes lift or canthoplasty- surgery to produce more elongated and naturally almond-shaped eyes, teeth reshaping, upper lip cut, more fillers. I'll put a thing called transdermal, which is like a huge micro dermal to attach a tail and definitely more tattoos," she explained. The 22-year-old also plans on getting a slit into her septum.
Despite her striking appearance and the trolling she has endured, with some labeling her as "disturbed," Dell'Abate feels perfectly comfortable with her choices. Her body modifications allow her to stay true to herself, and she views them as empowering. She's even inspired others to embrace their uniqueness and rethink traditional standards of appearance and beauty.
In her words, "Through them (body mods), I feel free to stay true to myself, regardless of what people think. They make me feel good, and that's what matters." Dell'Abate has received both criticism and support for her unique journey, but she remains unapologetically true to herself.
Last Updated Oct 31, 2023, 4:20 PM IST