Resign or Die: First Sikh mayor in United States facing death threats
Ravinder S Bhalla, the first Sikh mayor in the United States, has revealed that he and his family received a series of threatening letters that escalated from demands for his resignation to explicit threats against their lives, all stemming from his Sikh faith.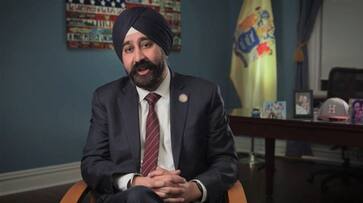 Ravinder S Bhalla, the first Sikh mayor in the United States, has come forward with disturbing revelations about receiving a series of threatening letters that target him and his family. Bhalla, who was first elected as the mayor of Hoboken City, New Jersey, in 2017, disclosed these threats during an interview with CBS News on Wednesday.
The letters, which were delivered to him by mail, started with demands for his resignation but soon escalated into direct threats against his life and the lives of his family members due to his Sikh faith. In a shocking revelation, Bhalla shared the contents of the third and most alarming threat: "This is your last warning. If you don't resign immediately, we will kill you, we'll kill your wife, we'll kill your children."
One of the letters chillingly stated, "It's time to kill you." This sequence of threats has left Bhalla deeply concerned and in fear for the safety of his wife and children.
Bhalla's election as mayor in 2017 marked a historic moment, as he became the first Sikh mayor in the United States. He later won a second term in 2021. During the CBS News interview, Bhalla expressed his anguish, highlighting the "angst, anger, a lot of hate, combined with actual threats" that he and his family have had to endure.
The mayor's primary concern is the well-being of his children, who had no choice in becoming part of such a distressing situation. "I signed up to be mayor, but my kids didn't sign up for this type of behavior," Bhalla stated. He emphasized his commitment to equality and proudly described himself as a Sikh-American and a dedicated American citizen.
This is not the first time Bhalla has faced such threats. Back in 2019, he acknowledged that he and his family had received death threats. In response to those incidents, he had issued a statement emphasizing the importance of taking security seriously.
Who is Ravi Bhalla?
Ravi Bhalla, born and raised in New Jersey, has been a resident of Hoboken for 22 years. Before his election as mayor, he served on the Hoboken City Council for eight years. Bhalla's academic journey included an undergraduate degree in Political Psychology from the University of California at Berkeley, a Master of Science degree in Public Administration and Public Policy from the London School of Economics, and a Juris Doctor Degree from Tulane Law School in New Orleans, Louisiana.
Bhalla's connection to Hoboken began when, at the age of 26, he moved to the city as a young professional starting his career at a law firm in Newark, New Jersey. He currently resides in Hoboken with his wife Bindya and their two children, Arza Kaur and Shabegh Singh, aged 15 and 11, respectively.
Last Updated Oct 19, 2023, 9:59 AM IST