Pakistan is the birthplace of Hinduism: Interim FM Jilal Abbas Jilani's shocker (WATCH)
During a recent address at the Asia Society in New York, Pakistan's interim Foreign Minister Jalil Abbas Jilani made a shocking claim that his country is the birthplace of Hinduism.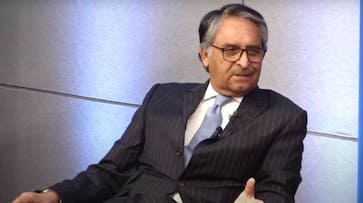 In a recent address at the Asia Society conference in New York, Pakistan's Interim Foreign Minister, Jalil Abbas Jilani, made a shocking remark claiming that Pakistan is the birthplace of Hinduism. During his address, Jilani urged individuals to explore this fascinating country, emphasizing its unique position as the birthplace of Hinduism, a recipient of Islam from the Arab world, and a cradle of Buddhist civilisation.
"What I would like everybody to do is come and visit Pakistan. It's a very exciting place to be. Culturally it's a very rich country. It's very scenic. We are you know, ours is a more than 5000 years old history. We are kind of the inheritors of a very rich civilization - the Gandhara and Buddhist civilisation," Jilani said.
He further claimed, "Ours is a country where one very important religion was born and I'm talking about Hinduism. One very important religion was given to Pakistan from the Arab world, which is Islam, and one very important religion which flourished in Pakistan that is the Buddhist religion."
"We have probably the oldest university in the world - Taxila which is about 5000 years old university. Just imagine that 5000-year old... was the center of Buddhist civilisation, and you'll see the ruins of that civilisation, even now," Jilani stated.
Pakistan's peace overtures to India met with negativity: Jilani
During his address at the Asia Society conference, Jilani also blamed India for poor bilateral relations and stated, "Pakistan desires peaceful and cooperative neighbourly ties with India. Unfortunately, Pakistan's outreach and peace overtures, including the opening of Kartarpur corridor for visa-free visits from the Indian Sikh community and my predecessor's visit to India for the SCO meeting, have been met with negativity."
"India's illegal actions in the occupied Jammu and Kashmir and abhorrent human rights violations of innocent Kashmiris at the hands of Indian security forces have further deteriorated relations between the two countries," he added.
"Worsening religious extremism in India, especially against Muslims has further complicated the situation," he further stated.
Jilani noted that in the midst of this intricate situation, "India's belligerence and anti-Pakistan theatrics for domestic elections" are exacerbating the rift between the two nations, hindering the pursuit of regional peace and stability. He underscored the need for peaceful and constructive dialogues to address all unresolved matters related to Jammu and Kashmir.
Ironically, Jilani's comments comes after back-to-back anti-terror encounters in Kashmir. Indian forces conducted a 7-day operation in the Valley to neutralise Pakistan-backed terrorists.
Last Updated Sep 21, 2023, 2:39 PM IST