Israel-Palestine war: Music festival massacre survivors enlist as Israeli army reservists
Survivors of a tragic music festival massacre join the Israeli army as reservists amidst escalating tensions with Hamas, while the IDF prepares for a potential ground invasion. The conflict has already taken a heavy toll on both sides.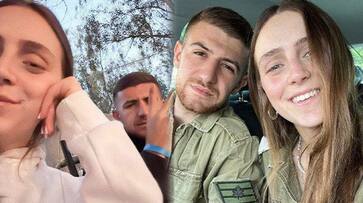 Days after the horrifying massacre at a music festival, the Israeli Defense Forces (IDF) shared a poignant story of resilience and commitment. The festival, set in the Israeli desert, became the scene of a tragic event when Hamas fighters stormed it, resulting in the loss of approximately 260 lives.
Israeli airstrike obliterates Gaza's Islamic University (WATCH)
Among the survivors of this horrific ordeal were Zohar and Liron, a young couple. Despite the traumatic experience they endured, their unwavering spirit and dedication shone through. Immediately after their escape, they both reported for reserve duty in the Combat Engineering Corps' reserve battalion, becoming reservists in the Israeli army.
As tensions continued to escalate, Israeli troops amassed along the Gaza border, reportedly preparing for a potential ground invasion. The Gaza Strip, a densely populated region home to 2.3 million Palestinians, has been under the governance of Hamas since 2007. 
This scenario presented risks, particularly for the lives of many hostages held within the Gaza Strip, which is under tight control by Hamas.
IDF spokesperson Jonathan Conricus revealed that 300,000 army reservists were positioned at the border, accompanied by artillery, as they readied to carry out their mission. Their objective was to ensure that, by the end of this conflict, Hamas would be left without the military capabilities to threaten or harm Israeli civilians.
Airstrikes persisted throughout the night, intensifying Israel's offensive against Gaza. The military reported that Israeli troops had already eliminated over 1,000 Palestinian gunmen since the initial Hamas attack on Saturday.
The toll of this conflict had been devastating, with over 1,200 casualties in Israel, including 155 soldiers, and 1,055 in Gaza, among them at least 260 children. As the region grappled with these grim statistics, stories like Zohar and Liron's offered a glimpse of resilience and determination in the face of adversity.
Hamas live-streams hostage horror! Gunmen orders shaken family to 'tell Israel we are here'
Last Updated Oct 11, 2023, 6:12 PM IST