Israel-Hamas war: IDF says 2500 terror targets destroyed since Gaza ground operation began (WATCH)
Israel Defense Forces conduct ongoing operations targeting terrorist infrastructure in Gaza, engaging in face-to-face battles and airstrikes, eliminating over 2,500 targets amid war with Hamas to ensure regional security and counter terrorist threats.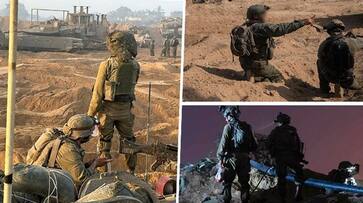 In an ongoing effort to counteract threats posed by the terrorist organizations in the Gaza Strip, the Israel Defense Forces (IDF) have engaged in a series of ground operations and airstrikes. The goal is to eliminate terrorists in direct confrontations and to neutralize key elements of terrorist infrastructure, including weapons warehouses, observation posts, and operational headquarters belonging to Hamas, a designated terrorist organization.
Also read: Israel-Hamas war: Outrage over quality of UN aid as 'nearly expired' biscuits delivered to Gaza (WATCH)
In a recent operation, the IDF directed an aircraft to launch an attack on a military complex affiliated with Hamas. This complex served as an operational headquarters and housed observation posts and other infrastructure used by the terrorist organization. The combined efforts of ground and air forces in the Gaza Strip have resulted in the targeting of over 2,500 locations related to these terrorist organizations.
The direct engagements between IDF forces and terrorists are indicative of the challenges faced in a conflict zone like Gaza, where the threat of terrorist activity remains high. The IDF's determination to neutralize terrorists in face-to-face battles demonstrates its commitment to maintaining security in the region.
The airstrikes targeting terrorist infrastructure also play a vital role in disrupting the operations of these groups. By eliminating observation posts, weapons caches, and operational headquarters, the IDF aims to degrade their capabilities and prevent future attacks.
Also read: Fact Check: Did IDF send 'attack dogs' inside tunnels to go after Hamas terrorists? Truth about viral video
Meanwhile, At the behest of Foreign Minister Eli Cohen, Israel is reportedly working to disseminate the footage of the massacres carried out by Hamas on October 7 to parliamentary bodies and media outlets across the globe. The videos, initially shown to journalists in Israel and later to the Knesset, have reportedly been viewed by legislative bodies in the US, Germany, the UK, and Japan.
"Hamas monsters documented their atrocities against our civilians using inhumane boasting," said Cohen. "We will tell the entire world, through the movie screening, the unbelievable cruelty from bloodthirsty terrorists who killed entire families and celebrated the harsh violence."
Last Updated Nov 5, 2023, 2:20 PM IST