Israel-Hamas war: 'Gaza strip cut into two,' says Israeli Army amid 'significant strikes'
According to reports, the Israeli Army announced on Sunday that "significant strikes" are being carried out and that the Gaza Strip has been "cut in half." According to army spokesman Daniel Hagari, Israeli soldiers "have encircled Gaza City" and "there is now a south Gaza and a north Gaza."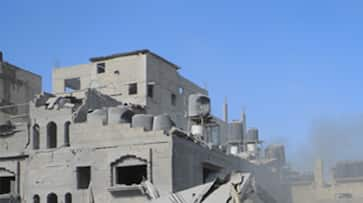 Amid the Israel-Gaza war, the Israel Defense Forces (IDF) spokesperson Daniel Hagari said that significant strikes have been carried out and the Gaza Strip has been 'cut into two'. As reported by Al Jazeera, Hagari said, "There are now widespread strikes on terror infrastructure - below ground and above it."
Israel announced that it was pounding Gaza with "significant" strikes after cutting it in two, as America's top diplomat pressed a Middle East tour focused on humanitarian aid for the Palestinians. 
He made his remarks during the US Secretary of State's trip to the occupied West Bank, Iraq, and Cyprus on Sunday. The Secretary of State's main concerns were protecting American troops from assaults by militants supported by Iran and providing help to Gaza's struggling residents in response to Israel's Gaza War.
Also Read | Israeli minister says dropping atom bomb on Gaza a 'possibility'; Netanyahu suspends him amid outrage
As the number of deaths in Gaza continues to rise, there is growing worry throughout the world. However, Israeli Prime Minister Benjamin Netanyahu has reiterated that "there won't be a ceasefire until the hostages are returned."
"Let them remove this from their lexicon. We are saying this to our enemies and to our friends," the veteran right-wing premier said after meeting troops at an air force base. "We'll just keep going till we succeed. We are without a substitute."
Soldiers engaged in house-to-house combat on Sunday as tanks and armoured bulldozers churned through the sand in footage released by the army.
Also read: Israel-Hamas war: IDF says 2500 terror targets destroyed since Gaza ground operation began (WATCH)
Although Israel has been pushing Palestinian people in northern Gaza to go south with leaflets and text messages, a US official stated on Saturday that at least 350,000 civilians were still living in what is becoming an urban combat zone.
The war has exacerbated tensions in the West Bank, where more than 150 Palestinians have been killed in clashes with Israeli forces and in settler attacks, according to the Palestinian health ministry.
Also read: Israel-Hamas war: Outrage over quality of UN aid as 'nearly expired' biscuits delivered to Gaza (WATCH)
Last Updated Nov 6, 2023, 9:22 AM IST