Iraqi protesters set ablaze Iranian consulate in Najaf
Iranian diplomatic staff escaped unharmed as anti-government demonstrators stormed and set fire to the consulate in the southern city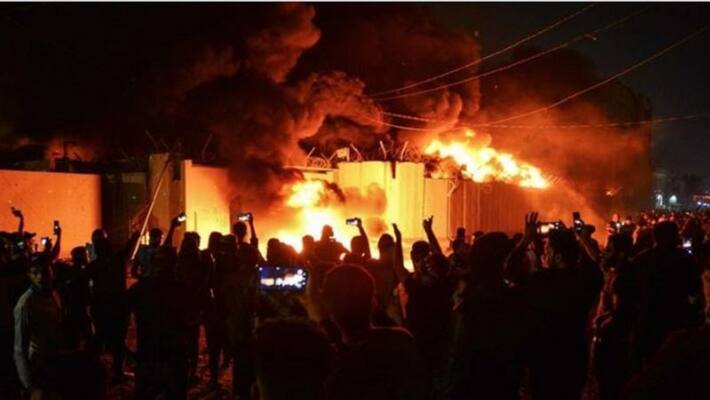 Iraq: Anti-government protesters stormed and set the Iranian consulate ablaze in the southern city of Najaf on Wednesday, drawing condemnation from Iraq's government, as the political turmoil continues to escalate and left more than 350 people dead and several injured.
The attack was the strongest expression yet of the anti-Iranian sentiment by Iraqi demonstrators, who have taken to the streets for weeks in the capital Baghdad and Shia-Muslim-majority south - and have been shot in hundreds by Iraqi security forces.
"Victory to Iraq!" and "Iran out!" protesters chanted, outraged at the country they blame for propping up a government they have been demonstrating against for nearly two months.
Staff at the Iranian consulate evacuated safely before the attack in the holy city, which was later placed under a curfew, state media reported.
On Thursday, Iraq's state news agency quoted the foreign ministry as condemning the attack on the diplomatic facility.
A report on Al Jazeera said, "What we're being told by eyewitnesses is that protesters surrounded the Iranian consulate in Najaf and they then set fire either to the building itself or the fence that surrounds the building."
"But we're still awaiting more details about it, specifically."
One protester was killed and at least 35 people were wounded when police fired live ammunition to prevent them from entering the building, a police official told The Associated Press.
Demonstrators removed the Iranian flag from the building and replaced it with an Iraqi one. Iranian consulate staff escaped the building from the back door, unharmed.
The incident marked an escalation in the demonstrations that have raged in Baghdad and across Shia southern Iraq since October 1.
Last Updated Nov 28, 2019, 6:37 PM IST