'If you could eliminate one thing from the world, what would it be?' Israel's one-word response to X user
This article explores Israel's response to a hypothetical question about eliminating elements from the world, as posed on social media.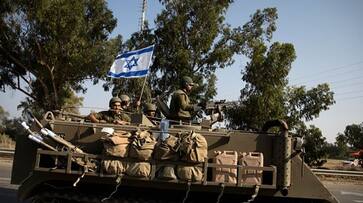 The conflict between Israel and Hamas has now entered its 12th day, resulting in a significant loss of life, and the number of injured individuals continues to rise. A tragic explosion at a hospital in Gaza took the lives of at least 500 people, as reported by Reuters, citing sources from the Hamas-run health ministry. This incident has triggered widespread outrage globally. Local authorities attributed the explosion to Israeli airstrikes, while Israel claimed it resulted from misfired Hamas rockets.
Also read: Hamas offers to release women and children hostages if Israel halts airstrikes in Gaza: Report
During this ongoing conflict, the official social media accounts of Israel and the Israel Defence Forces have become highly active, providing updates and information to people worldwide. Israel's official State account, in response to a user's post, expressed a desire to "eliminate" Hamas from the world.
An Elon Musk parody account on X (formerly Twitter) posed a question, "If you could eliminate ONE thing from the world, what would it be?" The parody account humorously suggested that they would eliminate "every social media platform except X." Israel's social media handle captured this post and shared it with the caption "Hamas."
On October 7, Hamas fighters launched a surprise attack on Israel, resulting in the death of hundreds of Israelis. In response, Israel initiated intense airstrikes. Israeli Prime Minister Benjamin Netanyahu vowed to destroy Hamas strongholds in Gaza, reducing them to rubble as the conflict escalates. He stated, "We are at war, and we will win," emphasizing that this is not just an 'operation' or a 'round' but a full-scale war.
On that fateful Saturday, at 6:30 a.m., Hamas fired a substantial barrage of rockets into southern Israel, triggering air raid sirens across the country. Israel's Iron Dome system, known for its effectiveness in air defense, was activated once again. Hamas launched 5,000 rockets, and in response, Israel's military fired 2,500 rockets. Reuters reported that smoke engulfed residential areas in Israel, and people sought shelter behind buildings as sirens blared.
Also read: Explained: What is Palestinian Islamic Jihad, the outfit accused of failed rocket attack on Gaza hospital?
Hamas fighters, using various means of transportation such as vehicles, boats, and motorized paragliders, breached security barriers under the cover of the rocket barrage. They launched attacks on nearby Israeli towns and military posts, even targeting civilians. Several videos on social media depicted Hamas fighters in Israeli border towns shooting at residents and passersby.
It's worth noting that this Hamas attack occurred 50 years and one day after Egyptian and Syrian forces initiated an assault during the Jewish holiday of Yom Kippur in an attempt to regain territory that Israel had taken during a brief conflict in 1967.
Meanwhile, the United Nations has reported that over one million Palestinians in the northern Gaza Strip have been displaced from their homes since Israel commenced its air campaign against the Palestinian organization Hamas.
Also read: 'Bring my baby back home': Mother of French-Israel's woman in Hamas hostage video appeals (WATCH)
Last Updated Oct 18, 2023, 12:44 PM IST