Hamas offers to release women and children hostages if Israel halts airstrikes in Gaza: Report
Hamas has expressed its willingness to release women and children it holds captive if Israel stops its airstrikes on Gaza, the NBC News reported quoting a senior official of the Palestinian terrorist group.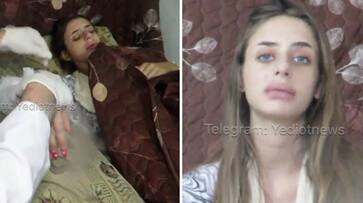 Palestinian terrorist group Hamas, engaged in a bitter conflict with Israel, has conveyed its willingness to release women and children currently in its custody if Israel halts its airstrikes in Gaza. According to NBC News, a senior Hamas official made this statement, indicating that these hostages, both foreign and Israeli, could be released within an hour if Israel met their conditions. The official stated that there are currently no safe locations for releasing them. However, it is important to note that Hamas does not have custody of all the hostages taken during the attack on Israel that occurred ten days ago, as stated by a diplomat familiar with the situation and a former US diplomat.
Also read: Explained: What is Palestinian Islamic Jihad, the outfit accused of failed rocket attack on Gaza hospital?
During Hamas's unprecedented attack on Israel on October 7, numerous individuals were taken hostage, with more than 1,400 people killed, primarily civilians, through acts of terrorism involving shooting, stabbing, or burning. Videos capturing these hostage situations circulated online. The former US official pointed out that some of the hostages are being held by Palestinian Islamic Jihad, another group based in Gaza, while others are held by what is described as "random Gaza citizen opportunists." Hamas, which controls Gaza, is making efforts to gain custody of all the captives but is facing difficulties due to ongoing bombings.
The diplomat emphasized that discussions regarding the fate of the hostages have been ongoing since the beginning of the crisis. Initially, Hamas pushed for a prisoner exchange, but they have now come to accept that this may not be the case. It seems Hamas has recognized that civilians may have to be released without any trade. The diplomat mentioned that discussions have been more positive recently, but no significant breakthrough has occurred yet.
Hamas's offer to release the hostages comes at a time when a tragic explosion at a Gaza hospital resulted in the loss of at least 500 lives, according to Reuters, citing the Hamas-run health ministry. This incident has sparked outrage, with local authorities blaming Israeli airstrikes and Israel claiming it was due to misfired Hamas rockets.
Also read: 'Bring my baby back home': Mother of French-Israel's woman in Hamas hostage video appeals (WATCH)
Recently, Hamas released a video featuring an Israeli woman who had been taken hostage during the attacks on October 7. In the video, the French-Israeli woman Mia Schem's arm was visibly wrapped in bandages. She identified herself as a 21-year-old from Sderot, a small Israeli city near the Gaza border. She explained that she was attending the Supernova Sukkot Music Festival on Kibbutz Re'im when Hamas operatives attacked the event.
Furthermore, Turkey's top diplomat disclosed that his country had been in communication with Hamas regarding the approximately 200 Israeli and foreign hostages held in Gaza, following requests from several governments.
Last Updated Oct 18, 2023, 12:33 PM IST