How IDF's covert Unit 504 played a key role in uncovering Hamas network beneath Gaza hospitals
The article discusses Israel's military operations in Gaza, focusing on Unit 504's intelligence role, its impact on targeting hospitals, and its significant contributions to uncovering Hamas activities, including the tunnel network, during the Israel-Gaza conflict.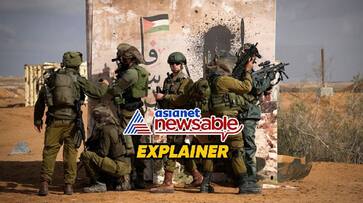 Israel's recent military actions in Gaza, aimed at eliminating Hamas and dismantling its infrastructure, have specifically targeted hospitals in the region. This strategic shift follows intelligence gathered by agents from the Israel Defense Forces' secretive Unit 504. After Israeli forces carried out an operation rendering Gaza's largest hospital, Al-Shifa, inoperative, another hospital in the Strip was hit by an Israeli missile on Monday, resulting in the death of at least 12 people. Unit 504's information has played a significant role in directing the focus of these military operations.
Also read: Ahead of 26/11 anniversary, Israel brands Lashkar-e-Taiba as terrorist outfit
What is Unit 504?
Israel's Unit 504, an integral component of the Israel Defense Forces (IDF), functions as the military's human spy network with a specific focus on intelligence gathering. Renowned for its role in uncovering what Israel claims to be Hamas' misuse of hospitals for terrorist and military purposes, as reported by The Jerusalem Post, Unit 504 is distinct in its operational objectives.
Unlike broader strategic intelligence agencies such as the Mossad, Unit 504's goals are characterized by a more focused approach, primarily directed towards ongoing military operations.
Originally centered on Lebanon, the unit has recently undergone a significant shift, dedicating its efforts entirely to Gaza. Following a hiatus spanning over a decade, Unit 504 has reestablished itself with a new physical center and unit dedicated to addressing issues in Gaza and handling security concerns along Israel's southern border.
Unit 504 role in military ops
Unit 504, a key component of the Israel Defense Forces (IDF), has significantly expanded its size since the commencement of the Israel-Gaza war on October 7. This expansion includes the enlistment of highly trained reservists within the IDF ranks.
Unit 504 has been actively involved in questioning arrested Palestinian fighters, contributing valuable intelligence to support ongoing military operations. The IDF reports that since October 7, Unit 504 has interrogated over 500 fighters and arrested and questioned at least 300 fighters in connection with the Gaza counter-invasion.
Recordings released by the IDF from Unit 504 interrogations provide insights into the presence of Hamas forces in civilian facilities. One Palestinian, who had been in Al-Shifa Hospital, disclosed the presence of numerous Hamas forces there, causing distress among the medical staff.
Another informant revealed how Hamas terrorists were using the large Palestine Red Crescent Society building in Gaza as a shield for approximately 50,000 Palestinian civilians.
The strategy involved concealing rockets in civilian blankets and launching them from the vicinity of the building. Additionally, another Palestinian informant shared details about the control of Rantisi Hospital in Gaza by over 100 Hamas terrorists, stationed in tents of approximately five to six individuals each. Despite being in civilian attire, the informant identified one of them personally, confirming their armed status.
Also read: 'War between good and evil': Israel releases new footage from October 7 music fest attack (WATCH)
Uncovering Palestinian terrorist tunnel network
Unit 504 has played a crucial role in identifying around 300 terrorist sites, flagging them for IDF operations. Over 100 of these sites have subsequently been targeted by various Israeli forces.
The field interrogation personnel of Unit 504 not only bring terrorists back to Israel for questioning but also conduct real-time interrogations in the field. This immediate information assists IDF forces in their on-the-ground maneuvers and aids in pinpointing sensitive Hamas locations on Gaza streets.
Detainees interrogated by Unit 504 have provided valuable information about sensitive terrorist locations and have been particularly instrumental in uncovering details about Hamas's tunnel network. This includes insights into the enemy's modus operandi and tactics for blending into civilian locations or populations, according to the IDF.
Unit 504's technological team has developed a 360-degree virtual reality device to enhance soldiers' understanding of battle areas in Gaza at street level. This VR program is based on authentic videos captured by spies operating in Gaza on behalf of Unit 504.
Last Updated Nov 21, 2023, 10:45 PM IST