Hamas admits: Iran and Hezbollah helped execute October 7 attack on Israel (WATCH)
Senior Hamas official Musa Abu Marzouk emphasized that the success of the October 7 resistance attack depended on support from Iran and Hezbollah. He also noted that Gaza tunnels were primarily constructed for the protection of Hamas fighters and that the responsibility for safeguarding civilians lies with United Nations and Israel.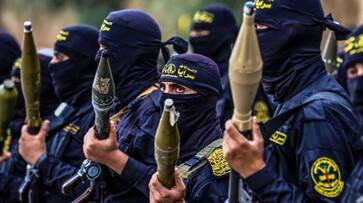 Perhaps in the first public acknowledgement of the role played by Hezbollah and Iran in the October 7 massacre carried out by the Hamas in Israel, Deputy head of the Hamas Politburo Musa Abu-Marzouk has reportedly admitted that the outfit 'would not have achieved success' without their 'significant support'. Senior Hamas official Musa Abu Marzouk told a television outlet that the October 7 resistance attack on Israel would not have been successful without the help of their allies -- Iran and Hezbollah.
"We extend our appreciation to Iran for their tangible support, not just in words but in actions," he added.
In an earlier interview, the Hamas official had said that Gaza tunnels were constructed with the aim of safeguarding Hamas fighters, while the responsibility of safeguarding civilians rests with the United Nations and Israel.
Israel initiated an aerial bombardment of the Gaza Strip, followed by a ground offensive, in response to a cross-border attack by a Palestinian group on October 7. The conflict has resulted in a tragic toll, with over 9,400 people killed, including 8,005 Palestinians, predominantly children and women, and more than 1,400 Israelis. Gaza's 2.3 million residents are facing severe shortages of food, water, fuel, and medicine due to Israel's blockade of the enclave.
To recall, the leader of Lebanon's Hezbollah met with top leaders of Palestinian armed groups, including Hamas and the Islamic Jihad last week to discuss strategies for achieving an "all-out victory" over Israel.
Hezbollah and Hamas have been engaged in near-daily confrontations with Israeli forces along the Israeli-Lebanese border since the October 7 attack. Both groups have a history of coordination with the Quds Force, the foreign operations branch of the Iranian Revolutionary Guards. They are part of what's often referred to as the "axis of resistance," consisting of Palestinian, Lebanese, Syrian, and other Iran-backed groups opposed to Israel.
Hezbollah, based in Lebanon, exerts significant control over regions with a Shia majority. The group faces accusations of orchestrating and executing terrorist attacks targeting Israeli and Jewish interests globally. Thanks to extensive backing from Iran, Hezbollah has amassed a formidable arsenal, including long-range missiles, small arms, tanks, drones, potent anti-ship and anti-armour weaponry, and various artillery. Lebanon operates under a sectarian power-sharing system, where authority is distributed among religious minorities, and power-sharing is organized along community lines.
Last Updated Oct 31, 2023, 4:19 PM IST