Dramatic! Israeli cop fires gun from moving bike in shootout with Hamas operatives amid war - WATCH
Amid the ongoing Israel-Palestine war, a video of Israeli police engaged in a dramatic shootout on moving a moving bike to eliminate two Hamas operatives in southern Israel has gone viral.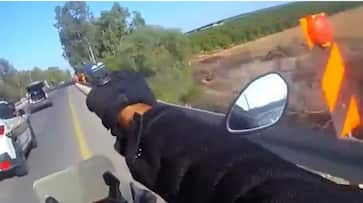 In southern Israel, an Israeli police officer confronts a vehicle believed to be carrying Palestinian operatives, firing his gun as his colleagues pass the car. This real-life scene unfolds in the midst of a raging conflict, as Israeli authorities hunt down Hamas operatives. The confrontation took place on an empty road near Netviot, a city close to Gaza, resulting in the deaths of two individuals inside the vehicle, according to Israel Police.
As the car comes to a halt, law enforcement officers unleash a barrage of gunfire, leaving shattered car window fragments on the road.
The Israeli police issued a statement, saying, "Police and Border Police officers heroically neutralized two armed terrorists outside of Netivot on Saturday. We will continue working on the front lines to defend our civilians from terror."
Israel classifies Hamas and other Palestinian groups as 'terrorists,' and they have engaged in multiple violent conflicts, with the latest outbreak dating back to Saturday.
Israeli law enforcement and military personnel are engaged in combat with Palestinian groups responsible for targeting civilians and taking hostages in the southern region of the country since the all-out war commenced on Saturday.
The Israeli defense forces have also launched airstrikes on Hamas hideouts along the Gaza border, pledging to reduce them to rubble in response to Hamas firing thousands of rockets into Israel.
Hamas has issued threats to execute civilian hostages they had kidnapped and transported across the Gaza border if Israel persists with its airstrikes. However, Israel has expressed its determination to escalate its attacks, including the possibility of a ground incursion into Gaza.
Last Updated Oct 10, 2023, 11:05 AM IST