Coronavirus: President Trump admits US reopening will cost more lives
"Will some people be affected badly? Yes," Donald Trump admitted earlier at the factory. "But we have to get our country open."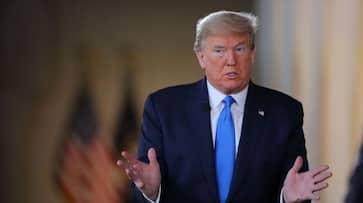 Phoenix: The US coronavirus death toll climbed by 2,333 in the past 24 hours, a tally by Johns Hopkins University showed on Tuesday, more than twice as many as the day before. 
The Baltimore-based university said as of 8:30 pm (4.30am UAE, Wednesday) that the country had suffered a total of 71,022 deaths. 
On Monday, the United States recorded its lowest daily balance in a month, with 1,015 fatalities.
Meanwhile, President Donald Trump conceded on Tuesday that more Americans will die in reopening the US economy but underlined his insistence on a dwindling coronavirus threat by refusing to wear a mask, even as he toured a mask-making factory.
Asked by ABC News whether a lifting of social distancing measures and reopening of the shuttered economy will lead to higher death tolls, Trump said "it's possible there will be some."
"Because you won't be locked into an apartment or a house or whatever it is," Trump said at the Honeywell factory in Phoenix, Arizona, which he visited on his first major trip since the coronavirus lockdown began.
"Will some people be affected badly? Yes," he admitted earlier at the factory. "But we have to get our country open."
"Thanks to the profound commitment of our citizens, we have flattened the curve and countless American lives have been saved. Our country is now in the next stage of the battle. A very safe, phased and gradual reopening of our country," Trump added in his remarks at Honeywell International in Phoenix.
However, earlier in the day, Trump lavished praised upon himself, seeming to suggest the worst of the pandemic was behind the US. 
"The one thing that the pandemic has taught us is that I was right," Trump said. "You know, I had people say, 'No, no, it's good. You keep — you do this and that.' Now those people are really agreeing with me. And that includes medicine and other things, you know," he said. 
Trump's November re-election campaign is reeling from the massive shutdown ordered to try and stop the spread of the virus, which has already killed 70,000 Americans and is forecast to take tens of thousands more lives.
With agency inputs 
Last Updated May 6, 2020, 11:02 AM IST