Coronavirus lockdown: Lions sleep on road in South Africa (Photos)
See these stunning pictures of lions sleeping on a road in South Africa as the country is under a lockdown due to the coronavirus (COVID-19)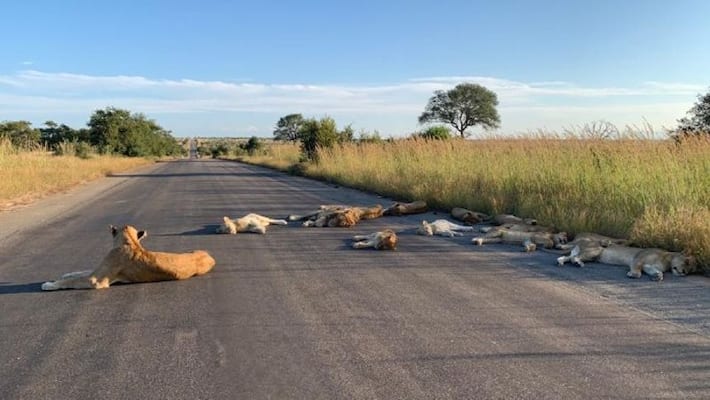 Bengaluru: With no vehicular traffic on roads due to the coronavirus (COVID-19) lockdown, animals have started using roads. Stunning pictures have emerged from South Africa during the lockdown where lions are sleeping on a road.
The official Twitter page of Kruger National Park shared images of lions napping on a road with no tourists in the park.
"Kruger visitors that tourists do not normally see.  #SALockdown This lion pride are usually resident on Kempiana Contractual Park, an area Kruger tourists do not see.  This afternoon they were lying on the tar road just outside of Orpen Rest Camp. (Camera with flash emoji) Section Ranger Richard Sowry (sic)," Kruger National Park wrote on its Twitter page with the pictures.
The photos were taken by park ranger Richard Sowry as he was patrolling the Kruger National Park on Wednesday (April 15). "Normally they would be in the bushes because of the traffic but they are very smart and now they are enjoying the freedom of the park without us," Sowry was quoted as saying by BBC.
He also explained why the lions were sleeping on the tarmac than on grass. "The tar was drier than the grass at the time - big cats and water don't mix." It had rained on Tuesday.
Earlier, Kruger National Park's Twitter page had written, "In this National lockdown period, SANParks remains closed to all visitors, and staff living in the Parks are following strict lock down guidelines. We are also ensuring that only essential duties are taking place in our national parks, to ensure that these wild places we all treasure are protected and maintained, so that visitors can return soon to see first-hand some of these spectacular animal sightings"
On the SANParks website (South Africa National Parks), it was posted, "Dear Clients of SANParks, we are dealing with not only an unprecedented situation but one that is fluid and unpredictable. Following additional advice from key government departments, it is with regret that we have to make a major amendment to decisions made earlier today regarding the closure of our tourism facilities.
"All tourism facilities in SANParks will be closed from tomorrow Wednesday, 25 March and not Thursday, 26 March 2020. Guests will not be allowed to enter any national park, whether as day or overnight visitors from Wednesday, 25 March 2020, until further notice."
Kruger National Park is about 420 km from Johannesburg. It is located in northeastern part of South Africa. Paul Kruger, President of South Africa Republic, was the founder of the park and it was established in 1898.
Last Updated Apr 17, 2020, 4:28 PM IST