Coronavirus cases strongly trending downward throughout US, says President Trump
"The number of Coronavirus cases is strongly trending downward throughout the United States, with few exceptions. Very good news, indeed!" Trump wrote on Twitter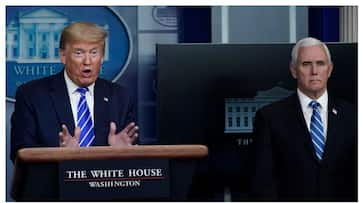 Washington DC: US President Donald Trump on Sunday (local time) said that there is a significant decrease in the number of COVID-19 cases across the United States. "The number of Coronavirus cases is strongly trending downward throughout the United States, with few exceptions. Very good news, indeed!" Trump wrote on Twitter.
A total of 1,486,423 cases of COVID-19 have been confirmed in the United States, according to Johns Hopkins University. The number of deaths in the country is over 89,550. 
In April, the daily increase in coronavirus cases in the US was around 36,000 which has since come down, Sputnik reported.
The United States is the worst-hit country globally in the number of reported COVID-19 deaths and cases. 
The US on Sunday recorded 820 new coronavirus fatalities in the previous 24 hours, but the country's total death count neared 90,000, a Johns Hopkins University tracker reported. The US has 14,86,376 cases of novel coronavirus.
The latest toll, marked at 8:30 pm (0030 GMT Monday), was the lowest since 776 daily deaths were recorded on May 10, but the count ranged as high as 1,894 in subsequent days.
According to the real-time tracker by Baltimore-based Johns Hopkins, the United States has 1,486,376 cases of novel coronavirus.
Meanwhile, there are more than 4.7 million COVID-19 cases worldwide and over 315,000 deaths. 
Last Updated May 18, 2020, 9:13 AM IST