A Year since Galwan: 'Colonel Santosh Babu and his men shook up the PLA, foiled many more Galwans'
Lieutenant General Vinod Bhatia (Retd), who is currently director of Centre for Joint Warfare Studies (CENJOWS) tells Asianet Newsable that the June 16 incident made China realise that Galwan-type actions are not going to work in their favour and that the Indian Army will be able to respond and retaliate in proportionate terms.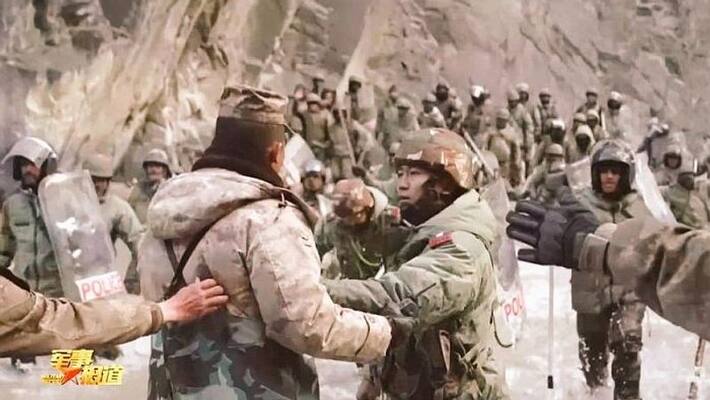 It has been a year since the Galwan Valley clash between the Indian Army and Chinese PLA personnel. On June 16, Colonel Santosh Babu and his soldiers may have achieved a whole lot more than just stopping Beijing's expansionist aspirations.
To understand this more closely, Asianet Newsable reached out to former Director General Military Operations Lieutenant General Vinod Bhatia (Retd).
During the interaction, Lieutenant General Vinod Bhatia (Retd), who is currently director of Centre for Joint Warfare Studies (CENJOWS) told Asianet Newsable that the June 16 incident made China realise that Galwan-type actions are not going to work in their favour and that the Indian Army will be able to respond and retaliate in proportionate terms.
Read Part 1 of a two-part special interview
It's been a year since the Galwan Valley clash with the Chinese troops. After rounds of deliberations, how much disengagement have we seen in Eastern Ladakh? What is your assessment of the situation on ground zero?
The situation continues to be in a stalemate. Fortunately, after Galwan, there has been no escalation; that is a very positive sign. Though the expected disengagement did not take place in all areas, it took place in the most sensitive areas of Pangong Tso. It is good that it happened after the Corps Commanders talks. But there are areas where the PLA did forward deployments in May-June last year. They have not really gone back from there. But the Corps Commanders level talks are on, the diplomatic level talks are on, and we had the political-level talks between Defence Minister Rajnath Singh and their defence chief and also External Affairs Ministers of both the nations in Moscow last year. So things are looking up. 
The only thing I would like to bring out here is that we have to understand the dynamics of the Line of Actual Control. China definitely achieved their strategic surprise by doing what it did last year in May-June. Their primary aim was eastern Ladakh, and they did their forward deployment. But our reaction, we surprised them by our reaction. Our reaction was very measured. We had a very equitable and proportionate deployment. We had a strategy, what I call no blinking, no brinkmanship. So we did not blink, and we did not carry any brinkmanship. Initially, things were looking bad, but on August 30, when we occupied the Kailash range, it gave a signal of our intent to them that here we are to stay. 
It is one year to Galwan. I do feel that Galwan was a deliberate ambush laid by the PLA. They knew that our troops would come there to recheck whether or not the PLA had returned to their original position as per the decision taken at the Corps Commanders' meeting and they were prepared to ambush our people. On June 15 evening, when they reached there, the PLA sprung a surprise and ambushed our men led by Colonel Santosh Babu. But what really happened was that our men under Col Santosh Babu gave a very resolute response and retaliated very well. 
There are a lot of questions being asked as to why they did not fire and why did they not carry weapons. They could not have fired. The reason is very clear that it is a very constricted space and when you are in contact with each other, how would you order to fire? You would injure your own men. We never ever fire on our own men. We have to understand that. But their response was so good. What they did was a tactical action, but it had strategic implications. Due to Colonel Santosh Babu and his men, many more Galwans planned by the PLA did not happen. They realised that Galwan-type actions were not going to work in their favour and that the Indian Army will be able to respond and retaliate in proportionate terms. The retaliation they gave shook up the PLA, and many more Galwans, which were waiting to happen, were foiled. Once they realised that the Indian Army was going to give them back in the same coin or much more, they did not escalate to other areas. So that is why I say that the actions of Col Santosh Babu and his men were a turning point. After June 16 -- most of the people may not agree with me -- we had peace and tranquillity, though very fragile. There has been relative peace along the Line of Actual Control. 
All along, India has reiterated that it has had the upper hand in the negotiations. Yet we see the Chinese belligerence coming in the way of disengagement. After witnessing some disengagement from the Pangong Tso area, why have the Chinese not moved forward on vacating from other friction points? 
They have not moved forward as yet. The negotiations are on. We also need to understand the Chinese way of functioning. They have come with intent. They have been surprised by their miscalculations. So, naturally, they have their domestic audience, and they have their army. So they would like to make a face-saving effort. You know the Chinese believe in face-saving. The standoff of Sumdorong Chu lasted six-and-a-half years. So we are still in negotiations. It is not that the Chinese have come and occupied and will not go back. We will have to keep pressurising them, and there are many ways of doing it on the ground and through many other domains. We have to synergise all our efforts at the political level, the diplomatic level and especially at the military level. Because if the military is not strong, diplomacy does not work. Diplomacy only works if you are strong on the ground. 
We have a very combat-hardened army. Our armed forces have done very well in these altitudes, and I think the Chinese have realised that. They are paying the cost for this in terms of deployment. The Chinese have a conscript army. They do not have expertise and experience. So they are facing the consequences. 
Watch this interview with Lt Gen Vinod Bhatia

India and China have signed five agreements to address border disputes and confidence-building measures between 1993 and 2013. How do you view Beijing's mindset and action to dilute these treaties? 
The five agreements were the basis of peace and tranquillity equilibrium at the LAC. We have a 3,488-kilometre border with China. But these five agreements stood the test of time. There were confidence-building measures, and they were going very well till 2020. We had certain exceptions in 2013 at Depsang -- I was the DGMO at that time -- and Chumar in September of 2014. There were issues. But even then, peace and tranquillity were there with the agreements. These agreements were good agreements. China has now violated the agreements. China is using its sharp power -- if you do not agree with China, that means you disagree with them. There is a difference between not agreeing and disagreeing. China is using sharp power, and it is not taking no for an answer. It is either China say or no way. China has a dictatorial regime; it is not a democracy like ours where there are many voices. 
So we have to understand what China does, and it is a manifestation of their sharp power not only along the LAC but, if you see it is evident in the South China Sea and East Sea, and against Japan, Malaysia, Indonesia, Taiwan and Korea. It is a part of a larger strategy. To that extent, we have done reasonably well. We will have to see what China does. We will have to build and enhance capabilities and keep demonstrating our resolve to China because that is what Beijing understands -- it respects strength. 
In the past, too, the Chinese troops used to come to Eastern Ladakh for exercise and training and return once they were completed? Why did they choose to stay back last year?
That is a key question, actually. What they been doing is that they have been coming in year on year. Even we have also been doing. We have been doing our summer exercises there. We have to understand that China has built a very excellent infrastructure on their side. It is a multi-dimensional or multi-model infrastructure. They have an excellent infrastructure, including upgraded airfields. They had a two-season capability -- they could build in one season and wait out for the next season to resume work. Now because of the infrastructure that they have, they have a one-season capability. So they should come every year, and they used to back out after two months or so. But this time, they came in, resorted to what I earlier termed as surprise strategy and started forward deployment. So there was an intent to it. But it is not because of the Darbuk–Shyok–DBO Road, as many have claimed. That road has been in the making since 2000 -- over 19 years in the making. If they had to do something on that road, they would have done it before construction began and not after it. I do not think there are there for any territorial salami-slicing. 
They (China) have strategy anxieties. They have strategic concerns in the Indian Oceans region. Eighty per cent of the oil goes through the Indian Ocean region. We dominate that. We are the only nation that has opposed the BRI. We are the only nation that opposed the China-Pakistan Economic Corridor (CPEC), which is central to China's dream of BRI. I think the game is much bigger. We do understand the big picture, and we will have to play accordingly. We will have to build capabilities in the Indian Ocean region, not to threaten but as a deterrence. We can't be just doing it at the LAC alone.
Watch this space for Part II of the interview
Last Updated Jun 14, 2021, 10:36 AM IST