This app will put PM Modi on the ₹2000 note!
A new 'feature' of the ₹2000 rupee note is going viral.
A new app claims to play a Modi video if the note is real.
Like the 'nano chip', this too is a trick.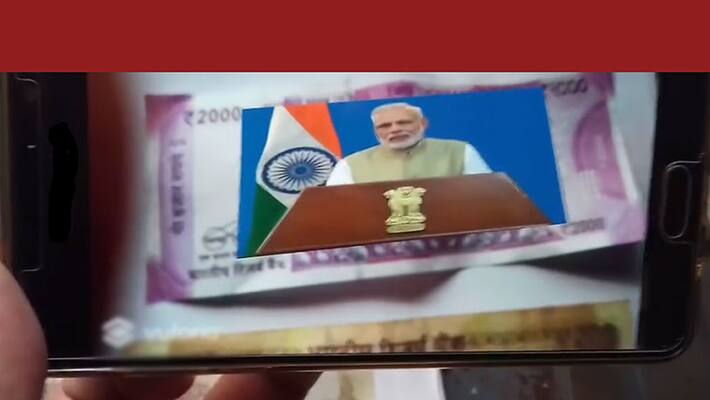 It would seem that the list of 'features' that the new ₹2000 note has is never-ending. The latest of these 'features' is the 'Modi Keynote' app.

 
Now, users claim that this is a way to check if the note is 'original' or note. The trick is to install the 'Modi Keynote' app from Google Play Store (for Android mobile phones), switch on the camera and place a ₹2000 rupee note before it.

 
A clip of PM Modi's original press release on the currency note ban immediately starts playing in the centre of the mobile phone screen - provided your internet connection is good.
 
 
This is apparently the proof that the note is real. Alas, much like the 'nano' chip hoax and all the other hoaxes with this note, this is also a trick.

 
As anyone who uses Snapchat knows, it is very easy to get an app to recognize pre-set conditions and then display graphics, animation or even a video over a pre-specified area.
 
 
This app, though clever, has nothing to do with the originality of the ₹2000 note. It merely follows the above mentioned logic.

 
An amusing party trick for sure, but users should beware - it is in no way a method to verify the authencity of the note. Please use the RBI's security features on the note for that purpose.
Watch the video here:
Last Updated Mar 31, 2018, 6:49 PM IST