Technical glitch on X sparks speculation about ex-OpenAI CEO Sam Altman's 2024 US Presidential run
Sam Altman's unexpected ousting as OpenAI's CEO prompts speculation and rumors about a potential presidential run, fueled by a technical glitch on X.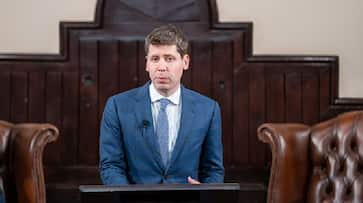 Sam Altman, the high-profile leader of artificial intelligence company OpenAI, on Friday faced an unexpected ousting, sparking widespread speculation about the reasons behind the move and prompting questions about Altman's future endeavours. Some claimed that Altman would run for President of the United States in 2024. Despite rumors suggesting a potential presidential run, there is currently no substantial evidence to support such claims, although the origins of this speculation reveal an intriguing reason behind its emergence.
The genesis of the presidential speculation appears to stem from users on X (formerly Twitter), who observed a peculiar situation during a Google search for "Sam Altman." The tech executive's X account emerged as one of the top hits. However, upon scrolling down to Altman's profile, users encountered a rather unusual preview of the content hosted on the platform.
Also read: OpenAI CEO Sam Altman's ouster rattles Silicon Valley: Decoding the impact and future of AI landscape
As evident from the captured screenshot below, it appears that Altman's account has posted a tweet stating, "I am running for President as a Democrat in 2024. My campaign will be about four main things. First and foremost, it will be about the economy. We have to make..." before the message trails off.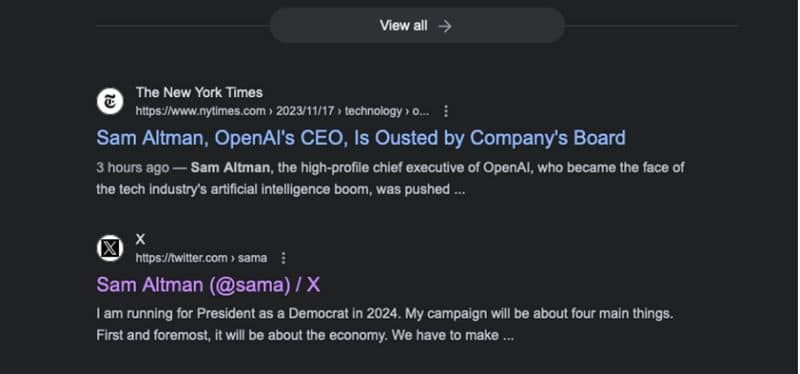 The occurrence seems to stem from a technical glitch within Altman's X account. The verbatim text used in the tweet mirrors an announcement made by Representative Dean Phillips of Minnesota, who declared his candidacy for president on October 27. It's important to note that Phillips, a Democrat, is positioning himself as a challenger to incumbent US President Joe Biden for the nomination. However, he is perceived as a long shot in securing the nomination, despite Biden facing challenges in public approval.
The connection between the tweet from Phillips and Altman appears to have originated from Altman's own positive commentary about Phillips on October 27. Altman expressed his interest, stating, "this is interesting, and I think close to what the majority of voters actually want: a reasonable, centrist candidate running on 1) a message of a strong economy and increasing affordability 2) a focus on safety and 3) generational change. Curious to see what happens."
The reason behind Google indexing a quote-tweet as an original tweet from Altman is unclear. However, it's noteworthy that X has faced technical challenges, particularly since Elon Musk acquired the company and made substantial layoffs of personnel responsible for maintaining the site's functionality.
The sudden removal of Altman as the CEO of OpenAI surprised many within the tech industry, particularly considering his prominent role as a public figure for the company overseeing ChatGPT. The board of OpenAI publicly stated that Altman was let go because he was "not consistently candid," offering no additional context to elaborate on this reasoning.
Also read: 'Loved my time at OpenAI...' ChatGPT maker Sam Altman reacts after being fired
Adding to the developments, Greg Brockman, a co-founder of OpenAI, resigned from the company following the public announcement of Altman's termination. Although Brockman and Altman issued a joint statement on X late Friday, it primarily presented a timeline of events rather than offering any clarification on the reasons behind Altman's dismissal.
The prevailing narrative, as reported by figures like tech journalist Kara Swisher, suggests that Altman was "pushing too far, too fast" with a potentially harmful technology, raising concerns about its impact on humanity. Swisher also noted that Altman was described as "manipulative and headstrong," although such traits are not uncommon among leaders in Silicon Valley and may not typically lead to such a significant and unexpected change in leadership.
The full details of this historic shake-up remain elusive, and serious answers may only emerge with time. However, it seems clear, at least for now, that Altman is unlikely to pursue a presidential run in the near future.
Last Updated Nov 18, 2023, 2:26 PM IST