Signalling a new era! How Mika, world's 1st humanoid robot CEO, could reshape future of business leadership
Explore the transformative impact of Mika, the world's first humanoid robot CEO, on business leadership, AI-driven innovation, and the future of strategic decision-making.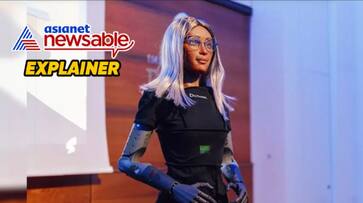 In a groundbreaking move, Polish rum company Dictador recently thrust the world of business into the future by appointing Mika, a humanoid robot, as its Chief Executive Officer (CEO). This visionary decision not only captured headlines but heralds a new era where artificial intelligence and robotics intertwine with corporate leadership.
Mika is the result of a collaborative research project between Dictador and Hanson Robotics, a renowned company specializing in developing human-like robots with AI capabilities for various applications, including consumer, entertainment, service, healthcare, and research.
"Dictator's board decision is revolutionary and bold at the same time. This first human-like robot, with AI, in a company structure, will change the world as we know it, forever," President of Dictador Europe, Marek Szoldrowski, said in a statement. 
The partnership aimed to create a robotic CEO that not only embodied the advanced capabilities of AI but also represented Dictador's unique values. Through customization, Mika was tailored to steer operations on behalf of Dictador, becoming a board member and influencing strategic decisions.
Also read: 6,000 daily queries in 4 languages: Air India's AI virtual agent Maharaja redefines aviation customer service
In a statement, Mika asserted her advanced artificial intelligence and machine learning capabilities, emphasizing swift and accurate data-driven decision-making. "With advanced artificial intelligence and machine learning algorithm, I can swiftly and accurately make data-driven," Mika said in a Dictador company video. "My decision-making process relies on extensive data analysis and aligning with the company's strategic objectives," it said, adding that it is devoid of personal bias, ensuring strategic choices that prioritise the organisation's best interest. 
David Hanson, CEO of Hanson Robotics, emphasized the importance of "humanizing" AI to ensure its safety and effectiveness. "I feel very strongly that we need to teach AI to care about people for AI to be really safe, to be really, really good. I think humanizing that is a very important direction," he explained. 
In a notable development, Mika has been hailed as an honorary professor, receiving the award at the 2023/24 Collegium Humanum University inauguration in Warsaw. During her speech on stage, Mika highlighted the strengths of artificial intelligence, further solidifying her role as a trailblazer in the integration of AI into various aspects of human society.
Let's explore how Mika's appointment could revolutionize the future of business:
Data-Driven Decision Making
Mika's core strength lies in her advanced artificial intelligence and machine learning capabilities, enabling her to make swift, accurate, and data-driven decisions. Free from personal bias, Mika aligns her choices with the strategic objectives of the company, potentially minimizing the impact of subjective decision-making that can sometimes cloud human leadership.
Efficiency and Precision
The integration of Mika into the CEO role introduces a level of efficiency and precision that is unparalleled. With the ability to process vast amounts of data in real-time, Mika can analyze market trends, assess risks, and make informed decisions at a pace that human executives may struggle to match. This heightened efficiency could translate into faster responses to market changes and increased competitiveness for the company.
Also read: 90 minutes trip slashed to 7! How e-air taxis, coming to India by 2026, could revolutionise urban mobility
Humanizing AI
Hanson Robotics, the company behind Mika, emphasizes the importance of "humanizing" AI. By instilling a sense of care for people in AI systems, there's an increased potential for safe and positive interactions. Mika's ability to understand and prioritize the well-being of both the company and its stakeholders could set a precedent for the ethical development of AI in business.
Strategic Innovation
Mika's appointment represents not just a technological leap but a strategic innovation in business leadership. As AI and robotics continue to advance, companies that embrace such innovations may find themselves at the forefront of their industries. Mika's presence as a CEO may inspire other companies to explore the potential of humanoid robots in leadership roles, sparking a wave of technological integration across various sectors.
Recognition and Impact
Mika's honorary professorship at the Collegium Humanum University not only showcases her capabilities but also recognizes the role AI can play in education and societal domains. This dual impact on both business and academia highlights the potential for humanoid robots to contribute across diverse facets of human life.
Last Updated Nov 11, 2023, 10:37 PM IST