90 minutes trip slashed to 7! How e-air taxis, coming to India by 2026, could revolutionise urban mobility
InterGlobe Enterprises, supporting India's leading airline IndiGo, and US-based Archer Aviation, announced plans to introduce an all-electric air taxi service in India by 2026, aiming for cost competitiveness with on-road services.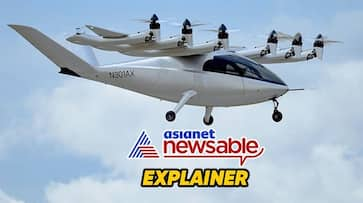 The future of transportation is arriving faster than we could have ever imagined, and it's taking to the skies. Electric vertical takeoff and landing (eVTOL) aircraft, often referred to as all-electric air taxis, are set to revolutionize urban mobility in India, offering a swift, eco-friendly, and congestion-free mode of travel. InterGlobe Enterprises, supporting IndiGo, India's prominent airline, is partnering with US-based Archer Aviation to introduce an all-electric air taxi service in India by 2026. The companies aim for a service that will compete cost-effectively with on-road travel options. 
This collaboration seeks to address India's challenges with transport and pollution, dealing with congested ground travel in major cities. Their initiative could provide a valuable alternative to ground transportation while promoting environmental sustainability. Archer Aviation, endorsed by major companies like Stellantis, Boeing, and United Airlines, specializes in electric vertical takeoff and landing (eVTOL) aircraft.
Also read: HAL, Airbus ink MRO contract for A-320 family of aircraft
60 to 90 minutes trip reduced to mere 7 minutes by air taxi
These 'Midnight' e-aircraft can accommodate four passengers and a pilot and cover up to 100 miles, targeting urban air mobility. The service intends to commence operations with 200 aircraft in Delhi, Mumbai, and Bengaluru, cutting down travel time significantly. For instance, a car trip in Delhi lasting 60 to 90 minutes would be reduced to a mere 7 minutes by air taxi.
InterGlobe Enterprises has intentions beyond passenger services. They plan to extend the use of e-aircraft to cargo, logistics, medical, emergency, and charter services, broadening their application beyond mere passenger transport. Archer Aviation has previously secured a substantial deal from the US Air Force and announced its intentions to introduce air taxi services in the UAE, showcasing a growing portfolio of initiatives.
The Rise of All-Electric Air Taxis
In recent years, we've witnessed a surge in interest and investment in electric air taxis. These vehicles are designed to provide urban and suburban transportation solutions, avoiding the congested roadways and pollution in major cities. Offering an efficient mode of transportation, eVTOLs promise to change the way we navigate urban landscapes.
Environmental Benefits
One of the most significant advantages of all-electric air taxis is their eco-friendliness. Electric propulsion reduces carbon emissions, contributing to a cleaner and more sustainable urban environment. As we confront the challenges of climate change, electric air taxis offer a promising solution for reducing pollution and combating traffic congestion.
Versatile Applications
Apart from offering passenger services, these eVTOL aircraft have a broad spectrum of applications. InterGlobe Enterprises plans to utilize them for cargo transportation, medical emergencies, logistics, and charter services. The versatility of these electric air taxis makes them an attractive option for a wide range of industries, further enhancing their appeal and viability.
Last Updated Nov 9, 2023, 8:38 PM IST